Plans reveal a three-stadium complex slated for Las Vegas
A $1.57 billion plan aims to draw national sporting events and teams into the region.
---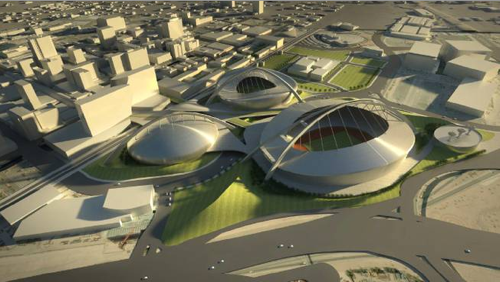 A downtown sports complex proposal with three stadium venues has surfaced with a familiar name leading the effort.
The $1.57 billion Las Vegas National Sports Center plan includes a proposal for a 17,500-seat arena for basketball and hockey, a 9,000-seat partially enclosed baseball stadium and a 50,000-seat partially enclosed football stadium. The baseball and football stadiums could be expanded to 36,000 and 75,000 seats, respectively, to host Major League Baseball and the National Football League.
The proposal, developed by International Development Management LLC, the Romani Group and general contractor Turner Construction, would be located in downtown Las Vegas on 70 acres northeast of the World Market Center near the Spaghetti Bowl freeway interchange of Interstate 15 and U.S. 95.
International Development Management (IDM) is the same company that had proposed building the Silver State Arena on the former site of the Wet 'n Wild water park near the Sahara hotel and told members of the Clark County Commission last July that a National Basketball Association team was "under contract" to play in the arena if it were built.
Click here to read the entire article and view more images.
Source: Las Vegas Sun