Intercorp Publishes New Catalog and Website
Website features improved user navigation and product information.
---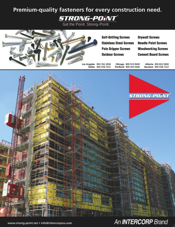 Intercorp., an importer of high quality construction fasteners under the Strong-Point brand, is pleased to announce the release of their new product catalog and redesigned website. Featuring more than 500 items, the catalog and website are complete resource guides for construction fasteners.
"We redesigned our catalog and website from the ground up to help our customers find the products, as well as technical information, that they are looking for with ease," said National Sales Manager Law Winchester. "They both contain in-depth product information, manufacturing standards and testing specifications that our fasteners conform to. This will make it much easier for our customers to find what they are looking for in a very efficient manner."
To download the new catalog and browse the new website visit www.strong-point.net.