DeWalt throws down the gauntlet
Massive power and hand tool launch event puts the industry on notice.
---
If there were any lingering questions over the implications of last year's merger of the nation's largest hand tool brand, Stanley, and number one power tool company, DeWalt, the world now has its answer. At its annual New product launch event for the trade press last week at the rechristened Stanley Black & Decker University in Towson, MD, DeWalt not only unveiled an all-new platform of cordless power tools, it also unleashed a powerful portfolio of more than 130 premium-featured hand tools on the market.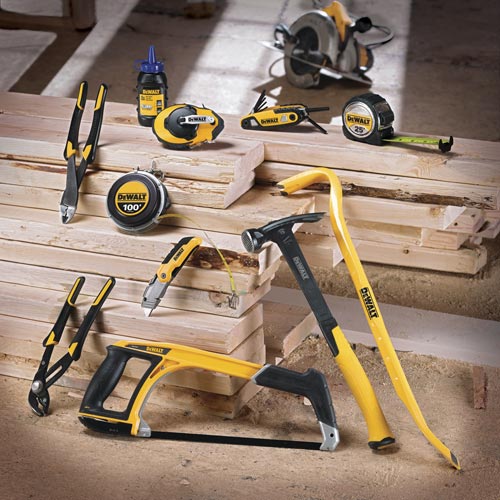 The hand tools, being launched in a phased rollout, with 90 products coming in this summer and another 40 later yet this year, include hammers, pliers, wrenches, tapes, hacksaws, screwdrivers and much more.
Not surprisingly, many of the new products carry strong doses of Stanley "DNA," but product managers emphatically stressed that they are not rebadged Stanley issues, as each new hand tool bears features that are distinct from their Stanley cousins. More on these in a moment.
Nearly as surprising as the hand tool launch, and somewhat more controversial among the writers in attendance at the event, was the launch of the all-new 20 Volt MAX lithium-ion line of cordless power tools. Over the past three years, Dewalt leadership said the company doubled the engineering resources and tripled its capital investment in cordless power tool research and development. Last year's introduction of the hugely successful 12 Volt Max line was but the first flowering of this investment. This year brings an all-new 20 Volt Max line to complement the existing 18-volt line.
The 20 Volt MAX line targets heavy-duty users and applications, including remodelers, carpenters, woodworkers, cabinet installers, electricians, mechanical contractors, plumbers and maintenance professionals.
"We are dedicated to continually optimizing our tools so that they meet the needs of professionals in a variety of trades," said Chris Keffer, director of marketing for cordless tools for Dewalt. "As part of our 20 Volt MAX* development process, we conducted extensive research and uncovered a need for cordless tools that offer performance in a compact, lightweight profile. We designed the new 20 Volt MAX Lithium Ion line to surpass professionals' expectations and address the need for tools that have the power to withstand rigorous jobsite applications, while also providing comfort and ease of use."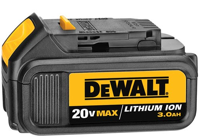 More Power
The key to the new line is its battery. The new 20 Volt MAX Lithium Ion batteries are offered in 1.5 Amp Hour (Ah) (DCB201) and 3.0 Ah (DCB200) configurations. The 1.5-Ah batteries will charge in 30 minutes; the 3.0 Ah batteries in 60 minutes. Two new heavy-duty chargers, the "house current" DCB101 and the DCB119 vehicle charger (for 90-minute charges on the go) will provide the juice. The new batteries are compatible with all of the 20 Volt MAX system tools and the chargers are compatible with all Dewalt 12 Volt MAX and 20 Volt MAX lithium ion batteries. However, because the new 12 Volt MAX and 20 Volt MAX platforms feature slide-in style batteries, they will not work with Dewalt post-style batteries.
As expected, these batteries pack more punch too. The new 3.0 Ah 20 Volt MAX battery is 38 percent lighter than DEWALT's existing DC9180 18-volt lithium ion battery but provides up to 35 percent more runtime than existing 18-volt lithium ion battery technology.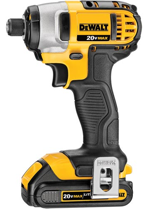 Other-category-leading features are also rolled into the 20 Volt MAX line. The DCF885C2 and DCF885L2 new impact drivers feature a ¼-inch hex chuck capable of one-handed bit loading. Plus, each tool accepts one-inch bit tips directly into the chuck to minimize front to back length of the tool. The new impact drivers also include three LED lights positioned in a ring around the chuck, with a 20-second delay to keep work areas bright and largely shadow-free.
In addition, the premium drill models in the new 20 Volt MAX line, including the DCD985L2 and DCD980L2, feature three speed settings.
So why introduce a 20-volt line when 18-volt, with more than 63 million battery packs currently working in the field, has been so successful? Also, why introduce a line of products that features a sliding battery pack that could possibly confuse current "post" battery owners at the point of sale?
The answer from DeWalt managers is that the new line boasts performance, ergonomics and features that set it far enough apart from its current 18-volt cousins to create in essence a new platform of choice for professional users that will complement, not replace, 18-volt tools. To reinforce this, DeWalt said that it has no intentions of abandoning its market-dominating 18-volt platform and that new 18-volt tools are planned for release yet this year and into 2012 as well.
There were other surprises at the event as well, so let's look at the tools.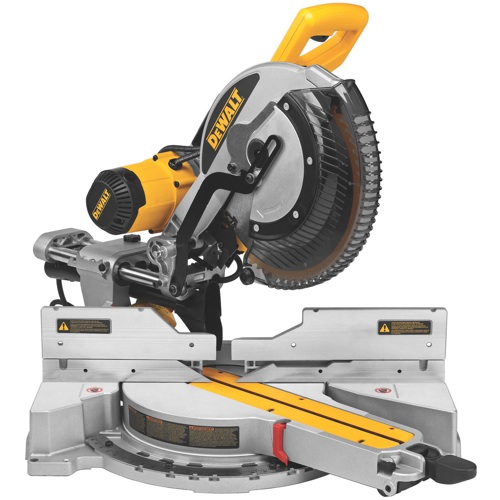 A new 12-inch Miter Saw System
The first rollout of the event was neither cordless nor a hand tool but rather a new flagship 12-inch miter saw. The new DWS780 12-inch Sliding Compound Miter Saw is designed to be precise and accurate enough for fine woodworking, yet durable enough for framing and deck building.
For visibility and accuracy when cutting, the DWS780 features Dewalt's XPS LED light and cut alignment system that casts a laser-like shadow on the work surface, showing users where the blade will come in contact with the material and generally lighting things up nicely in the process. Another plus is that the XPS system does not require recalibration over time or when changing blades.
The saw's dual bevel system includes the ability to bevel right and left from 0 to 49 degrees with positive stops at 0, 22.5, 33.9, 45 and 49 degrees in both directions, as well as a high visibility bevel scale for users like yours truly who have "over 50" eyes. The saw also miters 60 degrees to the right and 50 degrees to the left and features an adjustable stainless steel miter detent plate with 10 positive stops, allowing for fast and easy adjustments. A cam lock miter button allows users to lock angles between detents for versatility on the jobsite. Cutting power comes from a 15-amp motor that delivers 3,800 rpm.
Oh, and it cuts stuff, too. The saw offers industry-leading cut capacities including 6 3/4 inches vertical, 7 1/2 inches for nested crown, 13 7/8 inches of horizontal capacity and an exclusive back fence design that cuts up to a 2×16 at 90 degrees and 2×12 at 45. To simplify and maximize vertical cutting capacity, the unit includes a nifty rail lock latch that holds the head away from the fence.
The new saw's dust collection system collects over 75 percent of dust generated in the included bag. Additionally, to address two common user frustrations — portability and weight — the DWS780 tips the scales at just 56 pounds. Ergonomic handgrips ease toting and the whole thing folds to a compact package that ads ease to transport. The saw's precision-machined aluminum construction ensures there is no sacrifice in accuracy or durability. It will hit in early August with a target price of $599.
To support the new saw, literally, Dewalt is releasing four new jobsite work stands, the Heavy Duty Miter Saw Stand (DWX723), the Compact Miter Saw Stand (DWX724), the Heavy Duty Work Stand (DWX725) and the Heavy Duty Work Stand with Miter Saw Mounting Brackets (DWX725B).
All four of the new miter saw stands feature screw-attached, non-marring polymer feet and leg lock levers for easy setup and breakdown. The stands differ in length, weight and material capacity, from 500 to 1,000 pounds each.
And there's more. In addition to the four new stands, DEWALT is also launching a new line of work stand accessories. Miter Saw Mounting Brackets (DW7231) allow contractors to secure multiple saws to the rail, and are compatible with all DEWALT work stands and miter saw stands. The Material Supports (DW7232) that come with the Heavy Duty and Compact Miter Saw Stands are fully adjustable and feature flip-up cut stops. The Extension Arm Support (DW7028) offers solid support even at the extreme end of the extension and under heavy loads, and the Carry Strap (DW7026) works with any DEWALT work stand to aid in portability. While the Roller Work Support (DW7027) has a wide support that allows materials to move back and forth, the Wide Work Support with flip up cut stop (DW7029) is nearly twice as wide as the standard work stands for greater support capacity.
A tantalizing prospect was also raised by hints dropped by Dewalt managers that these stands and accessories are the beginning of a wave of supporting products that will convert the stands from merely glorified sawhorses to glorious workhorses of a true modular workshop system. Watch for new tool and equipment capabilities in the future that will make these great stands true mobile workshop benchmarks. Very intriguing stuff!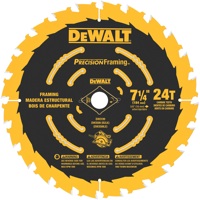 Saw Blades
Do saw blade makers dream of the perfect blade? They must; what other explanation is there for the ever-increasing levels of innovation that go into next generation saw blades — surely they are proof positive that the desire to cut faster, smoother and longer never sleeps. The latest example is Dewalt's new Precision Framing Blades, which offer breakthrough performance, outstanding blade control, longer life and durability.
"We spent countless hours speaking with contractors and realized the need for a framing blade offering that delivers great control, longer life and durability," said Simon Barrett, product manager, DEWALT. "The new Precision Framing Blades offer improvements in tooth geometry and blade design to meet and exceed these demands."
The teeth of the new Precision Framing Blades are ground on the top, side and front face. This creates a sharper tip that helps to reduce the blade's cutting force. They also feature exclusive plate technology with resin-filled expansion slots to dampen vibration and improve cutting feel and performance. A new anti-kickback shoulder reinforces the carbide tip for impact resistance and also helps reduce the risk of saw kickback.
The Precision Framing Blades fit both Dewalt saws and competing units, and will be available in August. They will come in a variety of diameters and tooth counts, including 6-½ inch (24- and 40-tooth), 7-¼ inch (24-, 40- and 60-tooth), and 8-¼ inch (40-tooth).

Not to be ignored, metal-cutting recip blades got an upgrade too. Dewalt's new 2X Longer Life Reciprocating Saw Blades are specifically designed to cut through the hardest metals. They feature a wide, thick design for durability, an innovative blade coating process for increased life and a variable pitch design for efficient cutting performance. These babies are beefier all around. In addition to their proprietary coating that helps to extend cutting life, the new blades are taller and thicker than standard Dewalt Metal Cutting blades — one inch tall and 0.042 inches thick.
To boost both speed and life (no mean feat!), the new blades feature a variable pitch of 14-18 TPI that provides a uniquely designed back angle for efficient cutting and material removal. They will be available in August, too.
20 Volt MAX Cordless Power Tools
"There is an increased demand for impact drivers globally because these tools offer the versatility and durability professionals need in a compact yet very powerful package," said senior product manager Jeremy Torok at the new tool launch event. "Due to hundreds of hours of jobsite research around the world, we know that professionals are using impact drivers more frequently."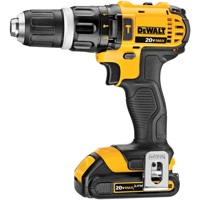 Impact Drivers
The twin foundations of the new 20 Volt MAX Lithium Ion line are its impact drivers, available with both 1.5 Amp Hour (Ah) (DCF885C2) and 3.0 Ah Lithium Ion batteries (DCF885L2). The only difference between the two units is in their battery power. The DCF885C2 features a 1.5 Ah Lithium Ion battery, and the DCF885L2 offers a 3.0 Ah Lithium Ion battery that provides longer runtime. With a durable motor that delivers 2,800 rpm, the DCF885C2 and DCF885L2 impact drivers are up to 43 percent faster than current impact drivers on the market.
Both units measure a mere 5.55 inches from front to back, and they weigh 2.8 pounds and 3.4 pounds, respectively.
Both impact drivers also feature Dewalt's one-handed loading ¼-inch hex.
DEWALT-designed electronics are built into the switches of all 20 Volt MAX Lithium Ion tools. These electronics provide maximum life for the tools and batteries by helping to protect them from overheating, overloading and deep discharge during use.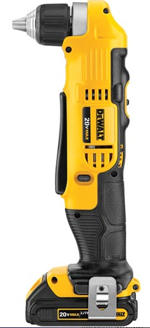 Right Angle Drill
The 20 Volt MAX Lithium Ion Right Angle Drill (DCD740C1) boasts a two-speed transmission (0-650/0-2,000 rpm) and an ergonomic handle for performance and ease of use. Its 3/8-inch deep hex pocket allows a 2-inch hex bit to be installed almost all the way into the chuck. This feature further reduces overall length (including the bit) to 4 ½-inches and makes this cordless right angle drill ideal for getting into very tight spaces. It weighs only 3.7 pounds and measures 4 ¼-inches in length from front to back sans bit. The DCD740C1 will be available in September for $199.00.
Compact Drill/drivers and Compact Hammer drills
The 20 Volt MAX Lithium Ion compact drill/driver (DCD780C2) and compact hammer drill (DCD785C2) both use a 1.5 Amp Hour (Ah) slide-on Lithium Ion battery pack, which allowed engineers to develop a slim handle design and an amazingly compact package. The new compact drill/driver is 7-½ inches long, ½-inch shorter than current drill/drivers on the market. The new compact drill/driver and hammer drill are also lightweight, weighing 3.4 pounds and 3.5 pounds, respectively.
Each tool has two speed settings; 0-600/0-2,000 2,000 rpm, which is up to 30 percent faster than current drill/drivers and hammer drills on the market. A ½-inch ratcheting chuck helps reduce bit slippage during high torque applications. Each model also has a built-in LED light with 20-second delay.
Both are due for release in September, with prices of approximately $219.00 for the compact drill/driver and $239.00 for the compact hammer drill.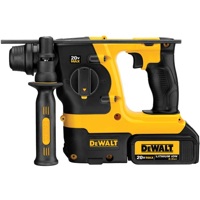 Rotary Hammer
The new 20 Volt MAX Lithium Ion SDS rotary hammer (DCH213L2) drills up to 20 percent more holes per charge than existing DEWALT offerings, provides a chipping function and an LED light for increased visibility. In addition, the DCH213L2 features active vibration control to improve productivity and comfort for contractors. It has three modes: drilling, hammer drilling and chiseling. In addition to leading battery life and function, the tool delivers 0-1,000 rpm and 0-4,100 bpm, ample power to complete many applications where users would rely on a corded rotary hammer.
The DCH213L2 also features Dewalt's SHOCKS Active Vibration Control, which works through an internal suspended mechanism to reduce user fatigue. Weighing just 6.4 pounds and measuring 10½ inches front to back, the new rotary hammer is compact in size, ideal for overhead use and applications in tight spaces. To further enhance contractor comfort, the weight of the new rotary hammer is well balanced in the center of the tool. This new tool is due out in September.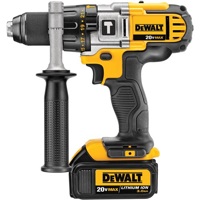 Hammerdrill and Drill/driver
DeWalt's new 20 Volt MAX Lithium Ion premium hammerdrill (DCD985L2) and premium drill/driver (DCD980L2) both feature three-speed (0-600, 0-1,250, and 0-2,000 rpm) all-metal transmissions, ½-inch metal ratcheting chucks and all-metal gear housings for rugged durability on the job. The ½-inch metal ratcheting chuck with carbide inserts helps to reduce bit slippage during high torque applications and provides long life. Each tool also features a bright LED work light above the trigger, which provides a 20 second delay for use in dimly lit spaces.
The premium hammerdrill is expected to retail for $299.00, and the premium drill/driver is expected to retail for $279.00. Each of the drills will come standard with two 3.0 Ah Lithium Ion batteries and a charger. They also will be offered in a variety of combo kit options.

Recip Saw
The new 20 Volt MAX Lithium Ion reciprocating saw (DCS380L1) includes an exclusive four-position keyless blade clamp that allows for flush cutting and a 1-⅛ inch stroke length with 0-3,000 spm. The multi-positional blade clamp allows the user to perform flush cutting and reach tight areas.
A double oil-sealed shaft helps to reduce contamination and provide durability. It will be available in September for a suggested retail price of $249.00.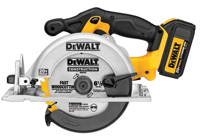 Circular Saw
The new 20 Volt MAX Lithium Ion Circular Saw (DCS391L1 features a lightweight magnesium shoe, optimized handle design, a powerful 460 Max Watts Out (MWO) 3,700-rpm motor that is 10 percent more powerful than previous DEWALT 6-½ inch cordless circular saws. Plus, its 3.0 Ah lithium ion battery provides up to 57 percent more runtime than other models on the market.
The comfortable handle and battery slide-pack also allow for improved balance compared to existing DEWALT offerings. It has a bevel capacity of 0-50 degrees for a variety of applications and comes with a 6-½ inch thin-kerf carbide tooth blade that provides users with the ability to cut completely through two-by framing lumber at 45-degrees.
It will hit the job sites in September and is expected to retail for $249.00. A steel-shoed version (DCS393) will be offered in a variety of combo kit options.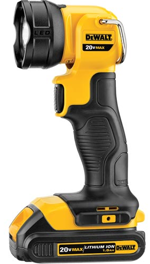 Work Light
Finally, even though many of these tools feature built-in work lights, sometimes you just want a light. The new 20 Volt MAX Lithium Ion LED Work Light (DCL040) features 110 lumens, a pivoting head, multiple light zones and hands-free capability for versatility on the jobsite. The LED bulb also creates less heat than conventional Xenon bulbs.
The pivoting head rotates 120 degrees with 11 detent positions for a wide range of visibility and the ability to easily lock-in the light projection angle. The integrated hang hook allows for hands-free capability in that it can be hung in spaces where added visibility is required. The DCL040 provides up to 11 hours of light output when paired with the 3.0 Ah 20 Volt MAX Lithium Ion battery.
Numerous combo kits of various 20 Volt MAX Lithium Ion tools will also be available beginning in September as well.
Hand Tools
Dewalt's new line of hand tools, available beginning this month, includes more than 130 professional-grade products including utility knives, pliers, wrenches, tape measures, hammers, saws, toolboxes and more.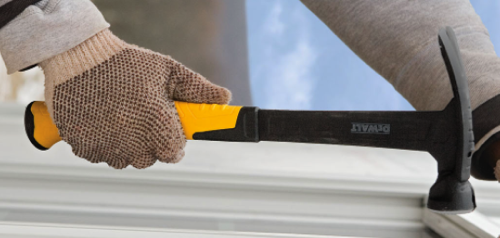 High-end Framing Hammer
The framing hammer is the world's first 15-ounce all-steel MIG Weld framing hammer. It touts a surprisingly lightweight design, but can deliver the power to handle almost any professional wood framing application. It also features a magnetic nail holding slot to efficiently set nails for speed and accessibility in hard to reach areas.
"Traditionally, hammers as heavy as 28 or even 32 ounces were the industry standard in framing applications; however, the trend is moving toward lighter hand and power tools," said Ian Harney, global product manager, hammers and demolition tools. "Extensive jobsite research with professionals has led our engineering team to use MIG Weld Technology to match the weight of leading titanium hammers while maintaining the strength and durability that DEWALT end users demand. This innovation delivers the power professionals need to maximize their level of productivity while minimizing arm fatigue."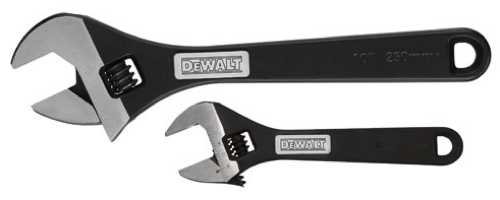 Heavy-Duty Adjustable Wrenches
Available in five sizes – 6 inch, 8 inch, 10 inch, 12 inch and 15 inch – the heavy-duty adjustable wrenches offer contractors a solution that can tackle nearly any professional wood framing, decking and plumbing applications. The adjustable wrenches are stronger than the leading competitor on the market and offer durability that contractors can count on to move from one task to another quickly and efficiently.
They feature a black DEWALT Tough Coat magnesium phosphate finish that helps prevent the wrenches from chipping and provides a no-slip surface when in use. The neck design increases the strength of the chrome vanadium steel-constructed wrench, and a wide, solid steel handle offers comfort and strength.
The new wrenches boast improved strength during high torque applications due to increased engagement on teeth and worm gear. Additionally, as a result of extensive jobsite testing, the wrenches are engineered to minimize jaw movement between moveable and fixed jaws for precise adjustments.
The DEWALT Heavy-Duty Adjustable Wrenches are expected to retail for the following prices:
DWHT70289 6 inch: $10.99
DWHT70290 8 inch: $12.99
DWHT70291 10 inch: $14.99
DWHT70292 12 inch: $18.99
DWHT70293 15 inch: $34.99
DWHT70294 6 inch and 10 inch combo pack: $19.99
Folding Retractable Utility Knife
DEWALT's DWHT10035 is one of the first hybrid folding retractable utility knives on the market. It features Rapid Load blade change and on-board blade storage for up to three blades. A metal body provides durability while its ergonomic soft grip offers comfort to help reduce fatigue. Additionally, a built-in twine cutter allows for fast and easy twine or wire cutting when the blade is in the retracted position.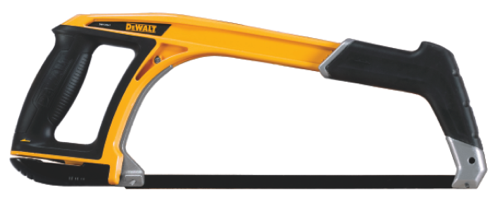 5-in-1 Hacksaw
One of the neatest designs we have seen in some time takes shape in the new Dewalt 5-in-1 Hacksaw (DWHT20547). This novel hacksaw is designed to perform five of the most common tasks found on the jobsite. The standard high-tension application acts as a typical 90-degree hacksaw, securely holds the blade up to 330 pounds and is ideal for cutting PVC and metal piping. For 45-degree flush cuts, simply remove the blade, flip the saw over and place the blade on the opposite side of the frame and you have a 45-degree angle to the saw handle.
Remove the blade and the rubber over-molded die-cast nosepiece and insert the blade back in the main frame and you have transformed the tool into a low-profile hacksaw for cutting in tight or confined spaces.
Or, convert it into a long reach hacksaw. Just remove the hacksaw blade, loosen the blade storage knob on the top of the saw, remove the reciprocating saw blade from the storage compartment and insert and tighten the reciprocating saw blade or the hacksaw blade in the front of the saw for long reach.
Finally, the saw can be changed into a pistol-grip jab saw for drywall applications. Professionals can simply insert the reciprocating saw blade into the bi-material nosepiece and tighten. For less than $25, this is sweet, indeed.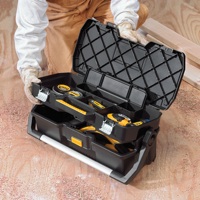 Tool Tote and Tough System
Last but not least, contractors need a place to stow all these great tools, right? Dewalt has them covered with two interesting new options.
First, the new 24-Inch Tote with Power Tool Case (DWST24070) is two cases in one. Contractors can store power tools, hand tools and accessories—like drill bits, nails and screws—in the power tool case, which also functions as a lid. For internal storage customization, the tool case has a removable divider that stores larger items in the bottom of the tote, helping to eliminate the need for multiple tool bags. For trouble-free transportation around the jobsite, the tote is equipped with a reinforced metal handle that allows for an easy grip and enables the unit to carry a maximum load of 70 pounds.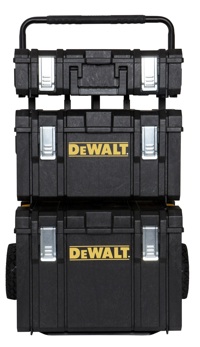 For serious haulage, look no further than the TOUGHSYSTEM storage solution. This unique system is comprised of three modular storage units (DWST08201, DWST08203 and DWST08204) and metal carrier (DWST08210) for the ultimate in jobsite organization.
The DWST08201 is a robust briefcase with carry handle that fits both power tools and accessories. The unit is designed to hold an entire set of tools. The DWST08204 provides removable vertical storage for easy access and organization.
The DWST08203 comes equipped with a deep removable tray which is designed to fit a cordless tool battery and charger.
The three storage cases are stackable using side latches, enabling a contractor to lift two or three cases at once. Each of the units is also furnished with an integrated water seal for tool and material protection from rain, snow and other weather elements.
For trouble-free transportation around the jobsite, the DWST08201 L-cart carrier can handle materials up to 260 lbs. and features adjustable, foldable brackets for tailored configuration. Contractors can even work directly from the carrier, without having to detach all storage.
A central locking mechanism allows the stand-alone storage cases to securely attach to the carrier for easy transport. For jobsite security, padlock eyes permit locking of the stand-alone units.
The TOUGHSYSTEM will be available through independent distributors beginning in July. The storage options are sold separately and expected to retail for the following prices:
DWST08201: $45
DWST08203: $55
DWST08204: $65
DWST08210: $160
Wow, how's that for a product roll out? The new Stanley/Dewalt organization promises us that this is just the beginning of a whole new universe of amazing tool and accessories to come. Stay tuned.