Parker updates PAGE International Hose Website
New site features easier navigation, information library and latest product listings.
---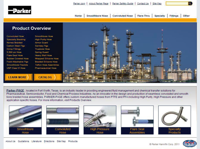 Parker PAGE International Hose has a new look. Parker PAGE International Hose, manufacturer of Braided Seamless Fluoropolymer Hose, launched a revised website at the end of June. (www.pageintl.com) The revised website is updated to include the latest hoses and fittings with a much easier navigation experience. Navigation bars follow you through your web experience, preventing users from getting trapped on inside pages or having to back out to find where they were.
Another added feature on the revised website is a Library that includes new information, such as nomenclature break downs and hose assembly instructions. In addition, you can add your quotation request electronically via the website tab "Other/Quotations" and receive priority when requesting quotations. Using the on-line quote request also ensures accuracy, alleviating verbal misunderstandings that sometimes happen over the phone.
With annual sales of $10 billion in fiscal year 2010, Parker Hannifin is the world's leading diversified manufacturer of motion and control technologies and systems, providing precision-engineered solutions for a wide variety of mobile, industrial and aerospace markets. The company employs approximately 55,000 people in 46 countries around the world. Parker has increased its annual dividends paid to shareholders for 54 consecutive years, among the top five longest-running dividend-increase records in the S&P 500 index. For more information, visit the company's web site at http://www.parker.com.