Contractor Supply Launches New Video Channel
New videos to be uploaded weekly.
---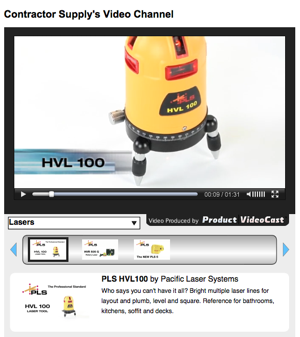 Online product knowledge and demonstration videos are changing the way the industry learns about and sells new products.
Contractor Supply magazine has partnered with Product VideoCast to bring you The Contractor Supply Video Channel, a unique, targeted video platform that combines the best of online communication and marketing tools with state of the art production and high-definition video quality in a secure environment that is free of chatter and obtrusive pop-up advertising.
The Contractor Supply Video Channel is unique — each video is produced to the industry's highest standards by distribution and construction industry veterans who know the market and speak our language.
Each week we will bring you new videos from our sponsoring manufacturers. The growing video library will be organized by familiar STAFDA Directory-style product categories such as Lasers, Blades, Cords/Cables/Lights, Pipe Tools, Tool Boxes and so on for easy reference.
Want to get your product videos featured in this exciting new medium? Click here to contact the pros at Product VideoCast.