Enerpac Acquires PocketSHEAR
Products are for shearing and sealing tendons in post-tensioned concrete.
---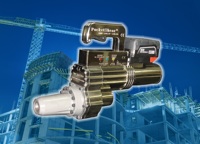 Enerpac has acquired all manufacturing and commercial rights to the PocketSHEAR and PocketCAP product lines for use in the installation of post-tensioned concrete. PocketSHEAR products cleanly cut the metal steel unbonded tendon tails after post-tensioned concrete is formed, placed and stressed. PocketCAP can then be used to seal the tendons, providing a protective cap for moderate to highly corrosive environment applications and delivering an additional level of protection against corrosion.
These two tendon finishing product lines compliment the Precision SURE-LOCK pre-stressed and post-tensioning wedge and anchor lines currently produced by Enerpac. Engineering control and manufacturing for PocketSHEAR and PocketCAP have now been moved to the Precision SURE-LOCK facility in Dallas, TX. When shipments begin in the fall of 2011, all PocketSHEAR and PocketCAP products produced by Enerpac will be backed by the Enerpac Global Lifetime Warranty.
"PocketSHEAR and PocketCAP products are valuable tools in the installation of post-tensioned concrete, for a broad range of applications such as buildings and bridges," said Paul Hohensee, Commercial Marketing Leader-Americas at Enerpac. "Now, these products are backed by the proven Precision SURE-LOCK brand, as well as Enerpac's industry-leading expertise, pre- and post-purchase support system and global reach."
Features of the PocketSHEAR:
Offers battery and hydraulic versions, for cutting 0.5" (12.5mm) and 0.6" (15.2mm) strand sizes Shears the tendon in the pocket, providing controlled tendon length without applying heat to the anchorage Eliminates the need for hot-work permits on the job when cutting tendon tails Provides quick and effortless tendon cutting with no risk of abrasive saw kick-back Delivers a clean cut end with sufficient space to facilitate gripping for lift-off, when required Creates shear cuts that can be reliably sealed against corrosion with PocketCAP products
For further information on the PocketSHEAR and PocketCAP product lines, call Enerpac's Dallas office at (972) 287-2390 and ask for sales.