Cologne Prepares for 2012 International Hardware Fair
2,600 exhibitors from 50 countries book space for world's largest tool show, March 4-7 in Cologne, Germany.
---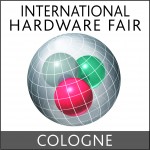 From March 4-7, 2012, around 2,600 suppliers from 50 countries expected at the International Hardware Fair Cologne. Over a period of four days, professionals from trade and industry will come together in Cologne with buyers and suppliers from all over the world in order to present and examine new products and trends, form new business contacts and place orders for the coming year.
"In addition to its leading position as a global marketplace, the International Hardware Fair serves an important function as a communications platform. Here, market players from all over the world and all hardware segments can meet in order to share experiences face-to-face and discuss current developments in the sector,"
says Katharina C. Hamma, Chief Operating Officer of Koelnmesse.
In cooperation with partner organizations, Koelnmesse has also developed a new concept for the presentation of an innovation award so that the sector's innovations can be especially honoured.
The International Hardware Fair will be divided into four product segments:
Tools — 1500 companies
Industrial Supply — 500 companies
Fasteners and Fixings, Fittings — 400 companies
Home Improvement— 200 companies
Thanks to this visitor-friendly layout, dealers and buyers will be able to quickly find their way around the fair and gain a compact overview of new products in their specific areas of responsibility. Tools, the fair's biggest segment, encompasses more than 1,500 companies showing a comprehensive range of hand tools and power tools, as well as power tool attachments in Halls 1 to 3, 4.1, 10.1 and 10.2.
The Industrial Supply segment will also be strongly represented, encompassing around 500 companies that will display products for workshop and factory equipment, industrial supplies andprotective equipment in Halls 4.1 and 4.2.
Visitors will find innovations for fixing and fastening technologies as well as fittings (400 suppliers) in Halls 5.1 and 5.2. Ironmongery and tools will also be found in Halls 1 to 3, in which the product ranges from Asia will be concentrated.
The products and services will be rounded out by exhibitors from the Home Improvement segment in Hall 5.1., where visitors will find around 200 suppliers offering products from the builders' and DIY supplies segment.
The International Hardware Fair will once again be a leading event with regard to its international scope, as around 80 per cent of the exhibitors will come from outside Germany. The European country sending the most suppliers to the fair will be Italy, followed by the UK, Spain and France. From overseas, there will also be large contingents from China, Taiwan, India and the USA.
EISEN 2012 to focus on hardware highlights
The 2012 trade fair will witness the firstever presentation of the EISEN innovation award. In cooperation with the Central Association of the Hardware Trade (ZHH), Koelnmesse will present the award for top products in the three categories of Tools; Industrial Supply; and Fastenings and Fixings, Fittings.
And with the Federal Association of the German DIY, Building and Garden Specialist Stores (BHB) as its partner, Koelnmesse will also present the Sustainability Award. The new award will honour companies that combine business success with social responsibility and environmentally friendly operation. The products nominated for the award will be displayed at a special show during the trade fair. The award will be presented during the welcome party on the first evening of the trade fair (4th March). The ceremony will be held at the Rheinterrassen, which is located close to the exhibition
center.
USETEC to be held in conjunction with Hardware Fair
In 2012, USETEC — The World Trade Fair for Used Technology will for the first
time be held in conjunction with The International Hardware Fair at the Cologne exhibition center. The USETEC product range encompasses not only used machines and equipment, but also services and machine accessories.
Visitors can purchase a combined ticket for both events.
The International Hardware Fair will be open from 9:00 a.m. to 6:00 p.m. The fair will be open exclusively to trade visitors. Learn more at www.eisenwarenmesse.com.