Simpson Strong-Tie Issues New Fastener Catalog
Catalog and Fastener Finder enable quick searches.
---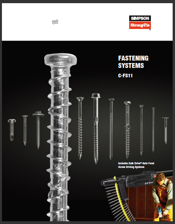 Simpson Strong-Tie has released its latest Fastening Systems Catalog and online Fastener Finder tool, making it easy for customers to find the fastener products they need to compare, specify or buy.
The 195-page Fastening Systems Catalog showcases the complete line of structural, corrosion-resistant, stainless-steel and collated fasteners as well as the entire line of Quik Drive auto-feed screw driving systems. The catalog can be ordered by mail or downloaded in its entirety or as individual PDF pages from strongtie.com.
The new Fastener Finder is an online tool that enables customers to search for the exact fastener they need by selecting from a criteria list that includes application, fastener-type, finish/material, length and model number. The tool also features links to product descriptions in the catalog to provide more detailed information.
Simpson Strong-Tie is focused on providing fasteners and fastening systems that blend testing, field research and insightful design with the highest quality materials. Whether fastening roofs, decks, siding, subfloor, cooling towers or framing, Simpson Strong-Tie has a high-performance fastener to fit the project. To obtain the new Fastening Systems Catalog or use the Fastener Finder, visit www.strongtie.com/fasten.