Bon Tool Issues New Master Catalog
Features 6,000 tools for the building trades.
---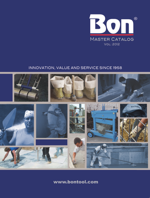 Bon's line of contractor-grade hand tools and materials for the building trades has been expanded to nearly 6,000 products and includes over 600 new items introduced in January 2012. The full product line is featured in Bon's Master Catalog - Volume 2012.
The newly published catalog is Bon's largest yet, representing one comprehensive resource for Bon products. Bon is an industry leading manufacturer and distributor of construction tools for professionals. The large selection of tools available at Bon include tools for masonry, concrete and decorative concrete finishing, concrete restoration, drywall, interior construction, floor covering, asphalt, roofing general construction and more. The complete catalog of products can be viewed on line at bontool.com.
New products of interest span the trades including Bon's Mixing & Pouring Barrel Transporter and Micro Topping Squeegees for concrete restoration work; Bon's Nylon Face Dead Blow Hammers and Paver Joint Wire Brush for hardscape contractors; and Bon's new Saw Cut Groover available as hand tool or as a walking tool for concrete finishing.
From the invention of masonry guides 50 years ago to the introduction of the first-ever stainless steel BulletTM groover, Bon Tool Co. remains committed to the development and improvement of products for today's contractor.
Celebrating 50 years in business, Bon continues to build on its heritage of providing innovation, superior quality and exceptional customer care. Bon manufactures the largest selection of professional tools for the building trades. More than 5,000 contractor-quality hand tools are currently available from Bon. For more information contact the sales department at 724-443-7080, or visit Bon's website at www.bontool.com.