Bosch Bulldog Xtreme Max and Bosch D-tect150 Wall/Floor Scanner Named Most Innovative Products at World of Concrete
Tools receive Industry Choice awards at annual tradeshow.
---
Bosch power and measuring tools were awarded two top honors following this year's World of Concrete industry tradeshow. The RH228VC Bulldog Xtreme Max Rotary Hammer received the Industry Choice award in the masonry materials and equipment category, while the D-tect150 Wall/Floor Scanner earned the Industry Choice award in the general tools and equipment category.
Awards for Industry Choice were presented to one product in each of nine categories based on the total vote from online and World of Concrete attendee balloting. World of Concrete, which took place this year in Las Vegas January 23-27, is regularly attended by more than 50,000 industry professionals, including contractors, construction managers, dealers/distributors, architects, engineers, producers, designers and specifiers.
"It's an honor to be recognized by some of our toughest critics - the concrete professionals using these tools on a daily basis,"said Jim Bohn, director of product management, Robert Bosch Tool Corporation. "We pride ourselves on delivering products that continually raise the bar in tool innovation."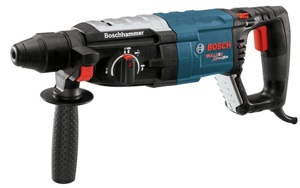 RH228VC Bulldog Xtreme Max Rotary Hammer
Whether frequently drilling large-diameter holes, using core bits or doing all-day chiseling, the RH228VC is the perfect choice for the contractor who needs maximum performance in extreme applications.
The RH228VC offers variable speed operation (0-1,230 RPM under load) and three operating modes (hammer, drill and hammer/drill). The unique Vario-Lock™ SDS-plus® chuck allows chisels to rotate to the optimum working angle.
Bosch's RH228VC tops its class in all meaningful measures. The hammer delivers 40 percent more speed, 20 percent more power (2.4 ft lbs) and up to 30 percent less vibration (12 m/s2) than most of the other hammers in the class. Able to drill holes up to 1-1/8-inch in diameter, the hammer also beats the competition when it comes to concrete drilling capacity.
Bosch engineers achieved these enhancements by re-thinking the most important components inside the rotary hammer. A longer piston and impact bolt, combined with a precision-machined striker, increases the hammer's efficiency, which, in turn, greatly increases both speed and power.
The longer piston reveals additional benefits when users consider vibration control. By creating a longer air cushion between the piston and the striker, Bosch greatly reduced vibration caused by the striker's backstroke. Bosch then employed internal counter-balance technology to further offset vibration. The new piston design and the counter-balance mechanism are both firsts in the RH228VC's size category.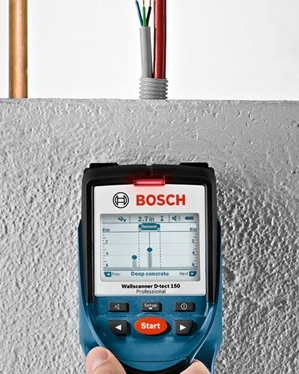 D-tect150 Wall/Floor Scanner
The D-tect150 Wall/Floor Scanner uses Bosch's patented ultra-wide band radar technology to accurately detect material depth, center line and relative width of ferrous and non-ferrous metals, non-metal objects (water-filled PVC pipes and wood studs) and live A/C wiring located in walls and floors. This technology allows contractors to detect rebar in up to 6 inches of cured concrete.
The D-tect150 wall/floor scanner has seven different detection modes: concrete, deep concrete, wet concrete, in-floor heating, drywall, metal and signal view.
The illuminated backlit LCD displays the detection depth, material type and the center and edges of an object, helping users mark the relative width of the targeted object. Its signal view mode helps distinguish different material through the height of the curve. In ruler view mode, the D-tect150 can also act as a tape measure by displaying the distance from the start of scanning while still being able to detect objects.
The D-tect150 is also easy and convenient to use. It requires no calibration. It features an ergonomic handle, single button toggle operation and a four-wheel design. It has an adjustable sound indicator and a LED light that has three detection modes - green (no object detected in sensor area), red (object detected in sensor area) and red flashing (live wire detected in the sensor area).
Both tools are available now through authorized tool distributors and home centers. For additional information or to locate a dealer, visit www.boschtools.com or call 877-BOSCH-99 (877-267-2499)