Simpson Strong-Tie Named Sphere 1 Partner of the Year
Takes top award in field of 85 preferred suppliers.
---

Sphere 1, a cooperative of independent tool and fastener distributors, recognized Simpson Strong-Tie as its 2011 Preferred Supplier Partner of the Year – the premiere award given out by the organization. Simpson Strong-Tie received the award over 84 other Sphere 1 preferred suppliers.
Individual awards were presented to companies that performed well in one of six different criteria. The Preferred Supplier Partner of the Year Award goes to the organization that ranks highest overall across all six criteria, including sales volume increase over 2010, growth percentage, number of members purchasing from the supplier, completion of Gateway for Growth Programs and Sphere 1 University student course completions in 2011.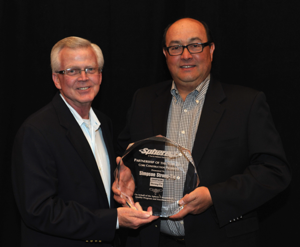 "The Partner of the Year award is highly coveted, because it ranks the combination of all six criteria and therefore goes to the organization with the best score overall. It's a special award with special benefits. The biggest benefit is that Simpson Strong-Tie gets the exclusive opportunity to address the entire membership at our 2013 meeting," said Sphere 1 CEO Carol Shackelford.
Shackelford added, "Simpson Strong-Tie came on as a preferred supplier in the Anchor and Connector categories in 2008, at the cusp of the worst market meltdown since the Great Depression. The company never gave up on our members and stayed steadfast in establishing strong partner bonds and growing our mutual business as conditions improved. We look forward to a long and fruitful relationship with one of the most recognized names in our industry."
"Sphere 1's recognition of Simpson Strong-Tie as Preferred Supplier Partner of the Year is a great honor for our company and for all of our employees. We thank the Sphere 1 membership for their support as we continue to serve the organization with the products, customer service and testing we are known for," noted Simpson Strong-Tie President Terry Kingsfather.
The award was presented at the 13th Annual Member Meeting on May 7-10, 2012 in Las Vegas.
For more information, visit the company's website at www.strongtie.com.