Kurt Wozniak Appointed Vice President and Officer at Columbus McKinnon
Wozniak moves up from managing director of Latin America.
---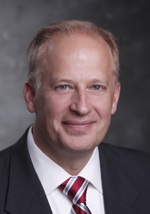 Columbus McKinnon Corporation announces the appointment of Kurt Wozniak as Vice President and an Officer of Columbus McKinnon Corporation by its Board of Directors.
Mr. Wozniak, a member of the CMCO Executive Committee, has been serving Columbus McKinnon as Managing Director of Latin America since July 2010 and has been a significant contributor to both the strategic direction and operational results during this time. He joined Columbus McKinnon in 1999 and held prior roles as Director of Corporate Development and Director of Materials Management.
In his role as Vice President, Latin America, Mr. Wozniak will continue to provide his expertise to that critical region as well as to global Columbus McKinnon matters.
Mr. Wozniak has a Bachelor of Science degree in Industrial Engineering from GMI Engineering and Management Institute and an MBA in Finance and International Business from the University of Michigan.
Learn more at www.cmworks.com.