Dorner Releases Full Specifications Catalog
Catalog includes comparison, selection and performance charts for all major conveyor platforms.
---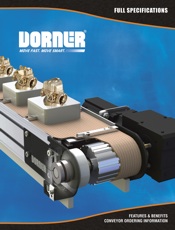 The 320-page catalog includes specification and performance data on all its conveyor platforms, including Dorner's AquaPruf and AquaGard sanitary conveyors, as well as the new Precision Move 2200 and 3200 Series conveyors. The Precision Move offering, which debuted in February 2012, represents the latest advancements in timing belt and drive technology and is ideal for the assembly, manufacturing and packaging industries that call for extremely accurate movement of product at specific times, distances and intervals.
Highlights include:
Large color photographs of all major conveyor platforms with detailed information on strengths, variations and specific applications
Quick-read conveyor comparison and selection chart
Performance charts with data specifications for all major conveyor platforms
Top and side view schematic designs with performance data
Information on Dorner's FIT (factory inspection & training) Program
Detailed data and color photos on Dorner's motor control solutions
Complete list of belting options and belt selection guide
Full lineup of gearmotors, support stands and accessories
Convenient color-coded layout by platform for easy use
To order your free Full Specifications Catalog from Dorner, call 800-397-8664; live chat your request with Dorner's applications hotline or visit: www.dornerconveyors.com.