MSC Adds 1,300 Hertel Cutting Tools
New tools expand MSC's expansive offering of premium cutting tools.
---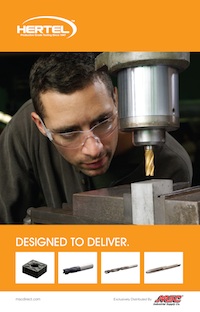 MSC Industrial Supply Co. has added 1,350 new products to its already extensive line of Hertel cutting tools to meet the growing demand for high-quality manufactuing solutions.
With more than 11,000 products from which to choose, Hertel represents one of the metalcutting industry's largest selections of solid holemaking, threading and milling tools, as well as indexable carbide products, including turning and milling inserts and tool holders.
By increasing cutting speeds, extending tool life and reducing total costs, Hertel tools increase productivity and profitability to a wide range of general machining applications.
Hertel cutting tools are designed to deliver quality, durability and reliability for tackling today's demanding metal cutting applications. With Hertel tools, shops can increase cutting speeds and feeds to cost-effectively boost metal removal rates and significantly shorten cycle times.