Parex USA Issues New Color Collection and Selection Chart
Product selector includes 43 new colors.
---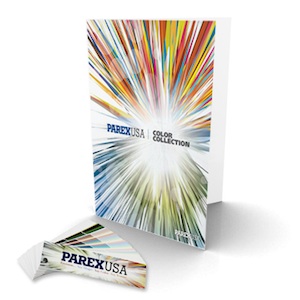 Parex USA, Inc., the parent company of leading building material brands Parex, Teifs, LaHabra, El Rey, and Merkrete introduces a new Color Collection, equipped with 75 standard colors for use on all acrylic finishes, elastomeric finishes, coatings and primers.
The enhanced Color Chart represents the top selling colors from the company's Parex, Teifs and El Rey brands plus 43 new colors including soft, warm beiges and cool greens, to brilliant blues and robust reds.
"We spent a significant amount of time researching color trends and the most sought after colors in the architectural community," said Heidi Larsen, Parex USA product manager. "Our expanded Color Collection offers a broader variety of hues and tones that are sure to impress and encourage designers to envision the limitless color options that are possible with Parex USA EIFS & Stucco solutions."
To compliment the new Color Chart, Parex USA also unveiled a new Color Fan Deck designed for façade finishes, coatings and primers. The Parex USA Color Fan Deck presents a complete palette of 940 colors in six groups: off-white colors, pastel colors, clear hues, midtones, shaded colors and accent colors.
The two new color tools were created in an effort to support Parex USA's recently launched Envision Campaign to allow for nearly unlimited color possibilities.
Both the Parex USA Color Collection and Color Fan Deck can be used with ColorFast pigments to provide added fade resistance and durability.
For more information regarding Parex USA, Inc. visit www.parexusa.com.