JLG Announces New Vice President of Sales for South America
Marcio Cardoso to lead JLG sales, parts and aftermarket service in South America.
---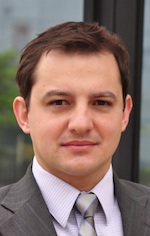 JLG Industries, Inc., an Oshkosh Corporation company [NYSE:OSK] and a global leading manufacturer of aerial work platforms and telescopic material handlers, today announced the promotion of Marcio Cardoso to the position of vice president of sales and aftermarket, South America.
In his new role, Cardoso will assume responsibility for leading JLG sales, parts and aftermarket service in South America. He will continue to report to Tim Morris, JLG Industries senior vice president sales, market development and customer support – Americas.
"This move unifies sales and aftermarket organizations in South America and allows us to strategically align our focus on the customer, tapping into Marcio's proven ability to build strong customer relationships and his thorough knowledge of the international market," explained Tim Morris. "As a global company, we continue to focus our efforts in the region, and are dedicated to providing the products, services, and support our customers come to expect from JLG."
Cardoso brings to his new position more than 11 years of experience in the sale and rental of heavy equipment, including aerial work platforms, compact construction vehicles, and cranes. Most recently, he served as director of sales and market development – South America for JLG. Prior to joining JLG, Cardoso was regional sales manager – South America for Terex Latin America Equip. de Construcao Pesada Ltda.
Cardoso earned a mechanical engineering degree from Escola de Engenharia Maua in Sao Caetano do Sul, Brazil.
For more information about JLG, visit the company website at www.jlg.com.