Coxreels Turns 90
Coxreels celebrates 90 years of manufacturing in the USA.
---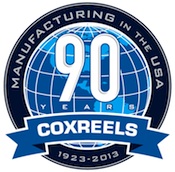 Coxreels, a 3rd generation family owned and operated business, will observe 2013 as a time to remember its strong and loyal customers, the many achievements of the past, celebrate its accomplishments of today, and look forward to a successful future.
Established in 1923 as Cox Air Gauge, Coxreels set the bar as the industry standard and is the leading U.S manufacturer of hose, cord, and cable reels. Aimed at enhancing the automotive service station market in the beginning, the Coxreels brand has evolved and the offering has grown to be a global product used in over twenty four different industries.
Many patents have marked the company's milestones of quality and innovation, and we continuously improve the hose, cord and cable handling industry, introducing proprietary technologies and superior special features. Building off its founding principles, advanced engineering teamed with unmatched manufacturing processes has allowed Coxreels to refine the industry resulting in top quality reeling solutions.
Coxreels has remained steadfast and focused on manufacturing high quality professional grade hose, cord, and cable reels since 1923. Offering a full product line serving the industry in every channel and application, Coxreels takes great pride in designing, building, and supporting all of their products right here in the U.S.A.
For further information on the Coxreels product line, contact Customer Service at (800) 269-7335 or visit www.coxreels.com.