New Maintenance App for Woodworking Tools
iPad app provides step-by-step maintenance instructions for popular woodshop tools.
---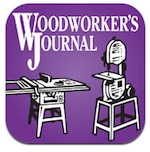 Woodworker's Journal has just introduced a new iPad app for power tool users that provides step-by-step maintenance instructions for popular power tools such as the table saw, band saw, jointer, drill press, planer, sawdust collection system, air compressor/nailer and moisture meter.
The Woodworker's Journal Power Tool Tune-Up App is compatible with iPad iOS 4.2 or later and is available in the iTunes store as a $4.99 download.
The app has a table of contents where all users need to do is tap on the image of the tool that they want to tune-up to go to that page. Step-by-step instructions, over 150 photos, and over 60 minutes of video are provided by award-winning tool experts Sandor Nagyszlanacy (author of The Art of Fine Tools and Setting Up Shop) and Chris Marshall (author of Woodworking Tools & Techniques and The Complete Guide to Home Carpentry).
A maintenance calendar included as part of the app keeps power tool users on track with scheduling their own power tool care and tune-ups.
Click here to order the app.