Makita Gears Up for 2013 LOORRS Off-Road Racing Season
Makita continues as sponsor of top drivers Brian Deegan and Rob MacCachren.
---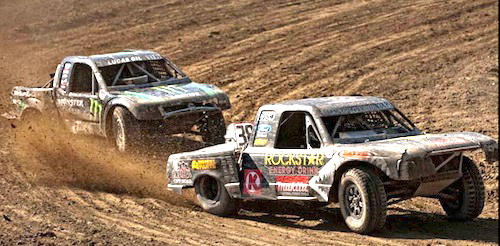 Makita Industrial Power Tools is continuing its presence in off-road racing as a sponsor of top race teams and a tool of choice in the pits, as the Lucas Oil Off Road Racing Series (LOORRS) season gets underway. This season extends Makita's consistent presence in live racing and action sports as a team sponsor of two perennial frontrunners in the series, Brian Deegan and Rob MacCachren.
Brian Deegan Seeking a "Three-Peat"

"The General" Brian Deegan, founder of the Metal Mulisha, is a fourteen-time X-Games medalist and full-time action sports icon. Deegan and his Rockstar Makita Metal Mulisha Ford return to the Pro 2 Class in attempt to make it three-in-a-row after capturing LOORRS titles in 2011 and 2012. Deegan will also compete in the highly competitive Pro Lite Class.
Rob MacCachren: 200 Wins and Counting

Rob MacCachren is a member of the Off Road Motorsports Hall of Fame and remains one of the most versatile drivers in off-road racing. From the southern tip of Baja to the closed course raceways of the western US and beyond, MacCachren is a fan favorite and always a contender when the flag drops. Rob is coming off a big year in 2012 after reaching career win number 200, and is back for more in the PRO 2 Class with his Rockstar Energy Makita Tools MacCachren Motorsports Ford Truck. Rob and his crew were busy in the off season as they put their Makita Tools to work and built a new truck for the Pro 4 Class, where he'll also race in 2013.
Lucas Oil Off Road Racing Series

The Lucas Off Road Racing Series is the evolution of the long standing support of short course racing by Forrest Lucas and Lucas Oil. Steeped in the Midwest tradition of short course off road racing infused with a West Coast influence, Lucas Oil Off Road Racing brings intense four wheel door to door action to challenging, fan friendly tracks. The 2013 schedule includes stops in Southern California, Arizona, Utah, Reno, and Las Vegas.
2013 also marks the return of regular race coverage on CBS Sports. For more on the Lucas Oil Off Road Racing Series, go to http://www.lucasoiloffroad.com/
For more information, please call 800/4-MAKITA or visit www.makitatools.com.