GE Generator Systems Builder Program Offers Business-Growing Tools
Program pairs builder with authorized dealer for installation and maintenance needs.
---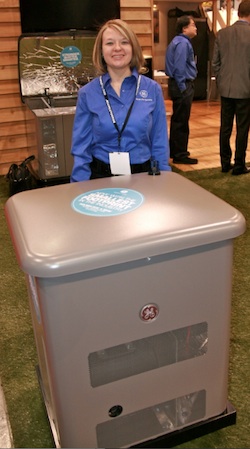 A new GE Generator Systems Builder Program announced by GE Generator Systems gives home builders and remodelers a program filled with flexible options, business-growing tools and support highlighted by an opportunity that pairs builders with existing GE Generator System dealers.
"Builders told us they wanted the benefits of a dealer program without the installation and service responsibilities required of an authorized dealer," said Amanda Grandy, marketing manager for Briggs & Stratton, which is the exclusive licensee of GE Generator Systems.
"Our Builder Program connects builders and remodelers with an authorized GE Generator System dealer in their area for a seamless customer experience. Installation, maintenance and service needs that occur after a unit is sold for a home are taken on by the dealer and not the builder."
The GE Generator Systems Builder Program is designed to give builders and remodelers the tools to grow their business with a product category experiencing significant growth.
"Power outages cost U.S. residents $150 billion each year and we are seeing many families looking for standby power solutions," Grandy said. "Our Builder Program empowers builders to affordably add on a GE Generator System to a new home build or a remodel job."
In addition to the dealer referral component, other benefits of becoming a member of the GE Generator Systems Builder Program include:
Direct ship, no inventory program
All GE Generator Systems are direct shipped and delivered to the builder's business or the customer's home after purchasing. To participate in the Builder Program, builders do not need to hold inventory.
Competitive builder pricing
Builder preferred pricing helps make standby generators an affordable option for customers.
Model home incentives
Special pricing on model home units is available for program members. Model home displays help customers visualize how a standby generator unit may look like alongside their home.
Training, sales and service support
GE Generator Systems provide all members with comprehensive sales and product classes through hands-on technical training. Classes will be held either at a nearby location or online through Briggs & Stratton's PowerPortal.
Promotional materials
Each member will receive a welcome kit of marketing materials and program information. Participating builders will also have access to additional free marketing materials, digital tools and the Custom Marketing site where they can create their own GE Generator Systems marketing materials.
Financing options
Consumer retail financing options serve as an important marketing tool and sale closer, so GE Generator Systems offers competitive consumer financing options for all builder program members to offer their customers.
Briggs & Stratton is the exclusive licensee of GE Generator Systems. To enroll, builders can visit www.briggsandstratton.com/powerdealer/become-a-dealer.
For more information on GE Generator Systems, visit www.homestandbygeneratorsystems.com.