Werner Creates One-of-A-Kind 75th Celebration Ladder For NCAA Men's Basketball Championship
Commemorative ladder will to be used exclusively during the NCAA net-cutting ceremony.
---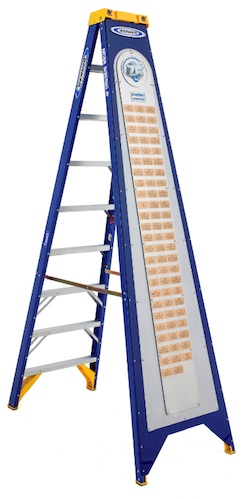 Werner Co. announced today that it has created an exclusive 75th celebration ladder that will be featured during the net-cutting ceremony of the NCAA men's national championship game hosted in Atlanta, Georgia on Monday, April 8, 2013.
As the official ladder of the NCAA Basketball Championship, Werner supplies the custom 9-foot ladder that has been an integral part of the winning moment when the champion cuts down the net during post-game ceremonies. Werner is the only ladder company to be an official part of the net-cutting.
"We are proud to be an authentic part of the Final Four experience and created the 75th celebration ladder to honor the school that wins the national championship and to celebrate the rich history of March Madness", said Chris Filardi, Vice President of Marketing at Werner Co. "The net-cutting ceremony is a rewarding tradition for the winning team and we are thrilled the ladder will be a part of this unforgettable moment."
Leading up to the championship game, attendees can see the commemorative Werner ladder at various locations throughout the tournament. Following the ladder tour, the winning school will host the ladder on campus during the 2013-2014 school year.
This unique Werner ladder includes plaques that highlight each year and the schools that won the tournament, dating back to the University of Oregon in 1939.
Learn more at www.wernerco.com