Predator Power Makes First U.S. Sales
U.K. stump grinder company sells $70,000 worth of P38RX grinders.
---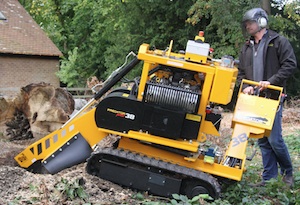 Leading UK stump grinder supplier Predator Power has announced it's first sales - worth over $70,000 - in the United States.
Both customers have purchased Predator's latest compact, narrow access and high power P38RX model launched recently in the US where the company exhibited at the TCIA industry trade show.
The customers are Woodacres Tree Services of Washington, and Hendrickson Tree Care of Kansas City. These latest sales follow the recent appointmen of a US distributor, and the move to establish a US dealer and support network across the States.
The Predator 38 is a very high power tracked machine in a compact package. Combining the latest American innovation in compact power, the 38hp Kohler gas engine delivers maximum power with exceptionally smooth performance.
With a minimum width of 26 inches, the P38 has a cutting depth of 18 inches, a swing of 54 inches, and US patented, performance-enhancing Multi-Tip wheel. No other stump grinder has ever had this amount of big machine brute power in such a compact, versatile package.
The variable width tracks spread from 26 to 40 inches providing an extremely stable, low ground pressure platform whether in or out. The machine offers a massive 35 percent power uprating on the company's established, market leading P28 grinder.
Features included reduced operating noise and vibration, lower emissions, uprated hydraulics with fast and smooth tracking movements. The full spec includes a 38hp Kohler gas engine. Length is 96 inches, width is 26-40 inches and height is 60 inches.
The P38 weighs in at just 2,200 pounds and has a central, perfectly balanced lifting eye. Options include high-end radio control, with fully proportional controls for smooth and precise operation in tight locations.
For more information, visit www.predator-usa.com.