Disston Adds Gil Blanchette
Named Director of Sales - Home Centers.
---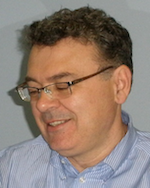 The Disston Company announces that Gil Blanchette joined the company as Director of Sales–Home Centers.
Blanchette's area of expertise is in managing retail channels, something he has done throughout the US in various capacities.
Most recently, Blanchette directed new product development and sales at Robert Bosch Power Tool Co. as a consultant.
Blanchette was instrumental in Bosch's seeing a triple digit increase in sales while simultaneously improving margins in pneumatic systems at major home centers. He also developed a go-to-market strategy for current and new channels of distribution resulting in a significant growth in sales and margin.
Previously, he worked for Stanley, Porter Cable and Senco.
Blanchette lives in the Atlanta, GA area. Learn more at www.disstontools.com