Homax Takes Gold at Hardware Show
Pro Grade Wall Textures win 2013 NHRA GOLD packaging award.
---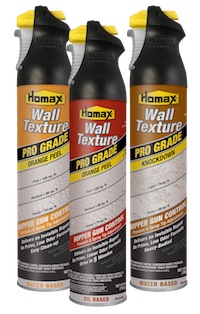 Homax Pro Grade Wall Textures received the 2013 NHRA GOLD Packaging Award. Homax Pro Grade Wall Textures have an innovative delivery system and pro formulation which allows contractors to achieve an invisible repair in two hours versus two days.
Entries were judged on overall shelf and sales appeal, graphic design, innovation, packaging efficiency, shelf life and selling features. Past GOLD Packaging Award winners include Moen, Stanley, Bosch, Werner Ladders, Fiskar's and First Alert.
The design process for the Homax Pro Grade Wall Textures began in 2009 when end user research revealed that tradesman wanted a convenient, easier-to-use tool for applying wall texture than the traditional gun and hopper.
The process continued throughout 2010 and 2011 involving many members of the Homax Group team including research and development, quality control, sales and marketing. As iterations were developed, constructive feedback and input from Pro Contractors and Tradesmen were invaluable to the design process. The final product design for Homax Pro Grade Wall Textures was launched in September 2012.
Key features of Homax Pro Grade Wall Textures include Dual Control technology that enables adjustment and control of both pattern and pressure (similar to a hopper gun) in the convenience of an aerosol. This time-saving professional tool provides portable and convenient delivery of a full range of interior wall textures. Homax Pro Grade Wall Textures were also designed with an ergonomic grip that fits easily in the hand for maximum comfort on the job, reducing tension and fatigue. Finally, the oil-based formulation is tinted for easy application and provides ultra-fast dry results with an advanced lower odor.
"In today's economy, time is money, especially for the contractor who must move quickly between jobs, yet still provide excellent customer service," said Scott Jackson, Brand Manager, Homax. "With Homax Pro Grade Wall Textures, contractors can provide an invisible repair and move onto their next project, and homeowners can enjoy their newly textured walls faster than ever before."