Nilfisk Names Peterson Product Manager
Dan Peterson joins Industrial Vacuum Division.
---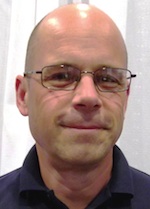 Nilfisk Industrial Vacuums, a division of Nilfisk-Advance, Inc., announced that Dan Peterson has joined the company as product manager. Peterson is responsible for directing product strategy and driving sales efforts in North America.
In this role, Peterson will primarily focus on identifying customers' application needs and vacuum requirements in order to drive new product development. He will also work closely with the sales and marketing teams to address opportunities for growth in Nilfisk's key markets.
Before joining Nilfisk, Peterson spent 23 years with Penco Products, Inc., a US-based market leader in storage products and material handling solutions. He held several leadership positions within customer service and product management, including senior product manager where he was responsible for the company's core products representing 80 percent of the company's revenue. While at Penco, he was also instrumental in developing a new line of specialty locker systems specifically for first responders.
Peterson received his Bachelor of Arts degree from Bloomsburg University of Pennsylvania.
For more information, visit www.nilfiskindustrialvacuums.com.