NetPlus Alliance Hires Marketing Coordinator
Zach Brado is a 2013 graduate of the University of Buffalo School of Management.
---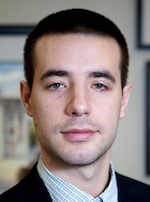 NetPlus Alliance, North America's largest buying group for industrial and contractor supplies distributors, has hired Zach Brado as Marketing Coordinator.
A 2013 graduate of the University of Buffalo School of Management, Brado received a Masters in Business Administration with a major concentration in marketing. He started at NetPlus Alliance last spring as an intern through the UB School of Management Credit Bearing Internship program and continued as a part time employee until graduation.
Brado will work closely with NetPlus Alliance suppliers to build awareness of the group's 142 product and service suppliers through custom marketing programs, surveys, electronic and Internet media.
An active skier and golfer, Brado will continue to reside in Buffalo, NY.
Through its strong marketing programs, NetPlus Alliance works to steer distributor purchases to its 142 product and service suppliers, which cover a broad spectrum of industrial MRO and contractor product lines, including abrasives, cutting tools, power tools, hand tools, material handling products, fasteners, janitorial supplies, paints and lubricants, valves and fittings, safety products, business services and much more.
Founded in 2002, NetPlus Alliance leverages its 425 distributor members' collective purchasing power, to provide profitable rebates, negotiated group pricing, incentive programs and special promotions.
For additional information contact Jennifer Judge Murphy at (716) 438-2014 or visit www.NetPlusAlliance.com.