Q.E.P. Introduces Master Tool and Harris Wood Catalogs
Includes all Q.E.P. brands: Q.E.P., Roberts, Vitrex, Porta-Nails and Suspend-It Tools.
---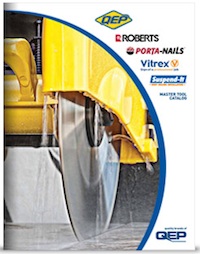 Q.E.P. Co., Inc. is excited to unveil its newest tool catalog. The Master Tool Catalog is a new concept for the company and includes all the tools available under the QEP umbrella, regardless of brand.
This new style catalog is divided into Installation Categories and includes all brands; QEP, Roberts, Vitrex, Porta-Nails and Suspend-It Tools. The Installation Categories include: Tile Tools, Carpet Tools, Laminate and Wood Tools, Vinyl Tools, Underlayments, Masonry, Trowels, Blades and Knives, Tape and Film, Tear-Out and Ceiling Tools.
Each category is color coded for easy reference and use. Along with this new concept, several new products have been added to the catalog offering.
The new Master Tool Catalog is on the Q.E.P. website at www.qep.com/download.php. It can also be accessed through Q.E.P. social media outlets including, Facebook, Twitter and LinkedIn.
New Harris Wood Catalog
Q.E.P. Co., Inc. also introduces the 2013 Harris Wood catalog/magazine.
Harris Wood has been manufacturing wood flooring in America since 1898.The magazine format provides easy reading, informative information and beautiful photos of Harris wood floors. Inside, readers will find information that will assist them in selecting the right floor for their lifestyle while providing pre-installation planning tips and installation methods for each flooring option.
The Product Details Guide easily showcases the features for each collection and species. After flooring is decided upon and installed, preventative and daily maintenance is required, and this is in the catalog too to help owners to keep their flooring looking as beautiful as the it was installed.