Wells Fargo Issues Q2 2013 Construction Report
Report sees regional growth, energy and housing driving market improvement through 2014.
---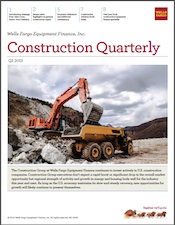 The Construction Group at Wells Fargo Equipment Finance continues to invest actively in U.S. construction companies. Construction Group executives don't expect a rapid boost or significant drop in the overall market opportunity but regional strength of activity and growth in energy and housing bode well for the industry this year and next.
As long as the U.S. economy maintains its slow-and-steady recovery, new opportunities for growth will likely continue to present themselves.
"One of the hallmarks of this slow-but-steady recovery in the economy and in the construction industry has been the resurgence of the equipment rental market," said John Crum, National Sales Manager for Wells Fargo Equipment Finance, Inc., Construction Group.
"For the last few years, equipment distributors and rental companies have expanded their fleets to meet the growing demand for short-term construction equipment rentals. Uncertainty in the future of the construction industry often dissuades would-be buyers from making the long-term commitment associated with buying heavy construction equipment. However, we are now finding an interesting conjunction of trends and conditions that make a compelling case for contractors to think more seriously about buying the equipment they use."
These trends and conditions include:
• Low cost of capital won't last forever.
• Used equipment values are holding steady.
• Replacement equipment costs are rising.
• Bonus Depreciation is still available.
Sector Performance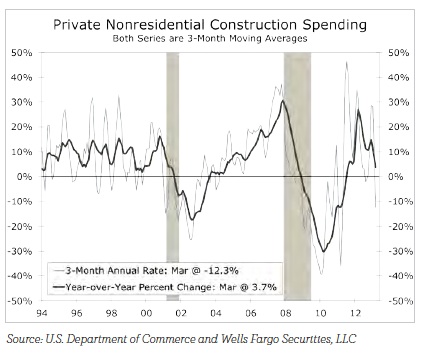 Nonresidential construction spending is analyzed in the Wells Fargo report. Some findings include:
Highway and Street construction spending in April was $76.7 billion, 0.5% above the revised March estimate of $76.2 billion and 3.4% lower than the year previous.
Private non-residential construction totaled $300.1 billion, 2.2% above the revised March estimate of $293.7 billion and 0.6% above the year-ago estimate.
Private residential construction was up 18.8% year-over-year to a SAAR of $301.9 billion.
Public Power construction was up 10.8% and public Transportation construction increased by 16.1% year-over-year.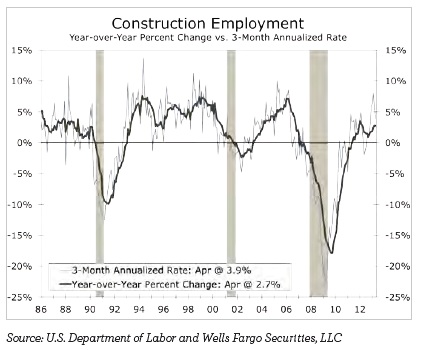 Construction employment trends are also reviewed. Among the reports key findings:
The April 2013 employment report showed total nonfarm employment gain of 165,000 jobs representing the 10th consecutive month with gains of 100,000 jobs or more. The national unemployment rate now sits at 7.5%.
Employment in the construction industry remained flat compared to the March 2013 report. However, construction employment had averaged gains of 27,000 jobs over the previous six months.
Unemployment in the construction industry is currently estimated at 13.2%, down from 14.5% in April 2012.
Other categories reviewed include the equipment auction and rental markets, the United Rentals/RSC merger and key construction manufacter performance.
Click here to download the full report from wells Fargo Equipment Finance.