SC Fastening Systems Hosts Grand Opening
Open house customers tour new 23,000-square-foot facility.
---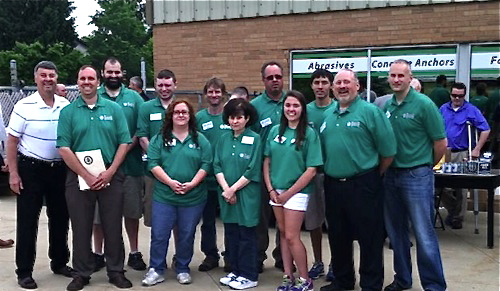 On June 14, SC Fastening Systems, LLC celebrated their recent move to Macedonia, Ohio with a well-attended Open House function. Their new 23,000 square-foot office and warehouse is 4-times the size of their previous facility.
Approaching 15 years of operation, SC Fastening Systems has become a preferred distributor for many OEMs. The products they supply include fasteners, abrasives, power tools, safety supplies, paints, and chemicals. They also supply fire extinguishers and related products.
The additional warehouse space allows SC Fastening Systems to expand their extensive inventory. The company is also very excited about their new showroom, where customers can view products on display and make purchases on-site.
The Open House served as their "Grand Opening" gala and was attended by over 200 people. Dignitaries from Macedonia, including Mayor Don Kuchta, were present. Also participating in the ribbon-cutting ceremony was Nick Ciofani, the District Director for Congressman David Joyce, who presented SC Fastening Systems with a Congressional Letter of Recognition. The Open House also showcased multiple vendors who set up product displays, gave away samples, and performed demonstrations.
Co-owners Scott Filips and Chuck Domonkos explained that the success of the company is based on outstanding customer service, which includes superior and diverse product offerings and fast delivery. As one manufacturing representative said of SC Fastening System's new facility, "Service is why they're here."
SC Fastening Systems, LLC's new address is 8531 South Freeway Drive, Macedonia, Ohio. Learn more at 800-232-2659 or visit the website: www.scfastening.com