Southwest Fastener Opens New Store in Tucson, Arizona
New store features will call department and pick up bay.
---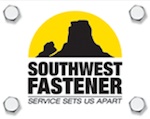 Southwest Fastener (www.swfastener.com) has recently added a new location in Tucson, Arizona to help provide unparalleled service and expertise to their current and potential customers in the Tucson area.
The new store is located at 3855 S. Evans Blvd., Suite 404 Tucson, AZ 85714. Phone: 520 434-BOLT (2658) Fax: 520 434-4007.
Since opening its first location in March 1989, Southwest Fastener has grown to four locations nationwide with the opening of the Tucson branch.
In addition to services available at the other national locations, the Tucson location will have a Will Call Department as well as over 1,000 SKUs in stock and ready for next day delivery. And a 1570 sq. ft. warehouse with a bay for Pick-Up.
Mike Birkhold, Vice President of Southwest Fastener said, "We are extremely excited about the opening of our Tucson location. The opportunity to bring the Southwest Fastener commitment to customer service, we feel, will be very well received by our current and future customers in this market. The Bolt Heads of Southwest Fastener are on the move. You have a choice!"
Southwest Fastener has five product divisions; Construction, Solar, Waterworks, Industrial Maintenance, Construction, Pre-Fab.
Southwest Fastener services a diverse group of customers throughout the United States, and ships product to locations around the globe. Southwest Fastener carries a full line of fasteners and hardware, including; abrasives, anchors, cutting tools, gaskets & bolt kits, Lindapter connections, paints & lubricants, solar fasteners, structural fasteners, strut, fittings, and supports.
Southwest Fastener is a proud member of the ACT (Association of Construction Trades), AMIGOS Associated General Contractors (AGC), the Western Association of Fastener Distributors (WAFD), the Specialty Tools & Fasteners Distributors Association (STAFDA), and Sphere1.
To learn more, visit www.swfastener.com.