Southwest Fastener Promotes Ramirez to Outside Sales
Bobby Ramirez has been with company for 10 years.
---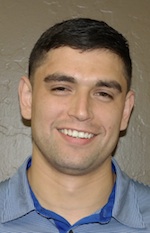 Southwest Fastener (http://www.swfastener.com) announced today that Bobby Ramirez has been promoted from within the company to help strengthen the outside sales force. His new job will entail maintaining excellent customer service with existing customers and increasing relationships with potential customers, while traveling throughout Arizona.
For the past 10 years, Ramirez has been with Southwest Fastener, working his way up the ranks from Warehouse Team Member to Assistant Warehouse Manager and then Warehouse Manager.
His promotion comes at a time when Southwest Fastener is expanding to new locations in the Southwest Region of the United States and hiring more personnel.
Mike Birkhold Vice-President at Southwest Fastener said, "The management team of Southwest Fastener is thrilled to have Bobby representing the company in the market place. He has worked hard to learn the fastener business and what it takes to satisfy customers' needs. His competitive spirit and desire to succeed will enable him to be successful in this career move."
Learn more at www.swfastener.com.