Logistics Promotes Sabey to Sales & Market Development Manager
Chris Sabey will work with rep agencies.
---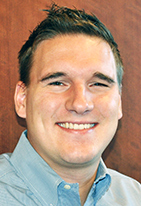 Logistics Corporation is pleased to announce that Chris Sabey has taken the position of Sales & Market Development Manager. Chris started with Logistics as a New Account Specialist, excelling in sales and customer service.
"With five years of outside sales experience and knowledge of internal processes, industry products, and markets, Chris was the perfect choice for this role," said Donna Bruno, President of Logistics.
Chris will report to Tena Schrader, Vice President of Sales. His main focus will be working closely with our independent rep agencies, offering them additional resources to grow their territory revenue.
Logistics sells safety and industrial products to distributors nationwide. For more information on Logistics, go to www.logisticssupply.com or call 866.577.4477.