Wells Fargo Q3 Construction Report Shows Upbeat Industry
Business activity, purchasing and hiring all trend up.
---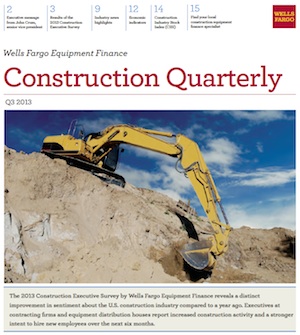 The 2013 Construction Executive Survey by Wells Fargo Equipment Finance reveals a distinct improvement in sentiment about the U.S. construction industry compared to a year ago. Executives at contracting firms and equipment distribution houses report increased construction activity and a stronger intent to hire new employees over the next six months.
"Regional construction activity continues to improve," said John Crum, National Sales Manager, Wells Fargo Equipment Finance Construction Group. "The 2013 survey confirms that the construction industry continues on an upward path, even if it is a slow and mostly steady one. Fewer respondents than a year ago reported lower construction activity and significantly more executives than a year ago said they are seeing 'somewhat higher' or 'much higher' construction activity. The headline signal of optimism in our surveys — construction activity — is definitely in positive territory and in a better position than last year. We found evidence of the housing resurgence in the survey results, and we also see positive signs in non-residential categories."
Some of the survey's findings include:
Pricing. Prices of new equipment are up. The cost of renting equipment does not
appear to have risen at the same pace.
Tier IV Equipment. Over 80 percent of contractors expect similar or higher resale values when compared to the equipment they currently own.
Equipment acquisition strategies. One-fourth of contractors said that within the past twelve months they have acquired equipment from the Internet without first inspecting it in person. In addition, they overwhelmingly said it was a positive experience.
Click here to download a PDF of the full report.