DeWalt Launches Lunch Truck Tour
Tour stops include Houston, Los Angeles, Miami, Phoenix and San Francisco.
---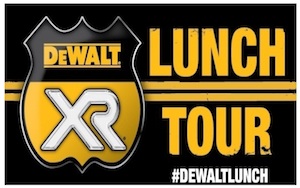 DEWALT announced its EXTREME RUNTIME (XR) and Innovative Products Lunch Truck tour in early June 2013. Eleven lunch trucks, covered in DEWALT XR and innovative products signage have been making their way to 11 cities around the United States to promote new product launches from DEWALT's XR and innovative product lines of power tools.
The first flight of the DEWALT Lunch Truck tour began on June 3rd and ended in August 2013 with appearances at select Lowe's, The Home Depot, and independent channel stores in New York, Chicago, Dallas, Falls Church, Houston, and Los Angeles.
The second flight of the tour kicked off on October 7 and will end December 5, 2013 with scheduled stops in Houston, Los Angeles, Miami, Phoenix, and San Francisco.
Visitors of the lunch trucks will have the opportunity to participate in tool demonstrations, and can receive free DEWALT gear. The DEWALT lunch trucks will be stationed for 2-3 hours at each stop and visitors will be able to talk to DEWALT representatives who will be on site to answer product questions in both Spanish and English.
"The DEWALT Lunch Truck tour is a great way to get our power tools in to the hands of professional contractors. It has proven to be a very successful grassroots campaign that is estimated to deliver over 13,000 power tool demonstrations and training of over 10,000 store associates. Visitors at the DEWALT lunch truck events have the opportunity to participate in demos and of course, enjoy lunch," says Jen Snyder, Senior Brand Manager, DEWALT.
Specific SKUs that will be featured and demonstrated on the DEWALT lunch truck include the 20V MAX* brushless impact driver (DCF886M2), 12V MAX* radar scanner (DCT418S1), 8V MAX* gyroscopic screwdriver (DCF680), compact reciprocating saw (DWE357), and the new jobsite table saw with rolling stand (DWE7491RS).
Visit www.dewalt.com/lunchtour for the DEWALT Lunch Truck tour schedule and for additional information about DEWALT's XR and Innovation lines of power tools.