Crescent Electric Supply Names Annual Sales Award Winner
Greg Hofacker becomes first back-to-back winner.
---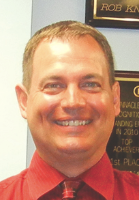 The Crescent Electric Supply Company, one of the 10 largest electrical distribution companies in the United States, has announced that Greg Hofacker, an account manager at Crescent Electric's distribution facility in Appleton, Wis., has won the Titus B. Schmid Founders Award of Excellence Award.
Hofacker is the first Crescent employee to receive the award two years in a row (2012 and 2011) since it began in 1995.
As recipient of the award, Hofacker received $5,000 worth of GE stock, a personalized plaque, and his name is inscribed on a master plaque displayed at Crescent Electric's corporate office in East Dubuque.
The annual award represents outstanding sales performance of GE Lighting products, one of Crescent Electric's industrial supply partners. Crescent Electric was first appointed a GE Lamp agent in 1925.
Titus B. Schmid, the award's namesake, founded Crescent Electric in 1919 with a single warehouse in Dubuque, Iowa. Nearly a century later the company operates 135 locations in 26 states, employs more than 1,500 people, and is still owned by the Schmid family.
For more information on Crescent Electric, visit www.cesco.com or call (815) 747-7720.