Champion Cutting Tool Launches New Website
Site features detailed product information, videos and 360-degree photography.
---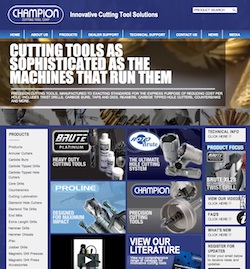 Champion Cutting Tool Corp has launched their newly designed website constructed to provide an enhanced online experience for cutting tool users, distributors and anyone interesting in learning about cutting tools.
The objective was to create a content rich website with enhanced navigation that makes it simpler for the user to search for product information. The user can easily view the full product offering complete with detailed product information and photos, videos and literature.
An exciting new feature is the use of 360-degree photography to view some of the more popular products like magnetic drill presses at all angles. New features and content will constantly be added to ensure the site is the go-to resource for industry professionals.
"This new website accurately reflects our tone and strengths as a company. We wanted to provide a tool that enhances our products and services in an easy to access format for cutting tool users", says Lowell Frey, President of Champion Cutting Tool Corp.
Champion Cutting Tool Corp has been a leader in the cutting tool industry, dedicated to serving professionals with industrial grade products and services since 1897. Champion's flagship brands include Champion, Brute Platinum, RotoBrute, and ProLine. The product range includes twist drills, end mills, taps, dies, cutters, and masonry tools; all engineered for high performance. For more information on the full line of products and accessories, please contact call 516-536-8200 or visit www.championcuttingtool.com.