Q.E.P. Appoints New Senior Product Marketing Manager
Tracy Muller will lead Adhesives division.
---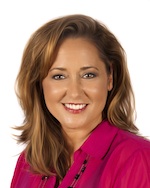 Q.E.P. Co., Inc. is pleased to announce the appointment of Tracy Muller as the Senior Product Marketing Manager of Adhesives.
Tracy is a graduate of DePaul University and Northwestern Business College with a Bachelor of Arts, Business/Marketing Management degree. She has a strong product marketing background and began her career in marketing with Diners Club International; followed by 10 years spent at one of our competitors, H.B. Fuller Construction Products, developing and enhancing the adhesive product lines.
Tracy most recently worked for Chicago Metallic Corporation as Product Manager of Ceiling Suspension Systems.
"We are looking forward to Tracy's contributions and the experience she will bring to our organization," said Jamie Clingan, Senior Vice President Marketing.