LGH Posts Winch Maintenance Video
Video offers electric winch troubleshooting tips.
---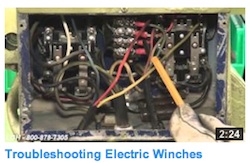 Lifting Gear Hire (LGH) has launched a new product demonstration video, available on the LGH YouTube page, www.youtube.com/liftinggearhire. The video focuses on troubleshooting electric winches.
The troubleshooting video contains pertinent information regarding finding solutions to common problems with electric winches.
The electric winch is considered to be one of the most reliable pieces of pulling equipment. To ensure proper execution of a pulling or lifting job, it is important to have the correct electric winch.
LGH offers a variety of electric winches ranging in capacities from 750 to 3,000 lbs. To view the video and learn more about troubleshooting electric winches, visit www.youtube.com/liftinggearhire.