Parex Releases Mobile Phone App
App includes Parex, Teifs, LaHabra, El Rey and Merkrete product information and distributor locator.
---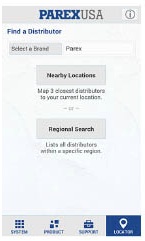 Parex USA, Inc., the parent company of building material brands Parex, Teifs, LaHabra, El Rey and Merkrete, unveils its first mobile phone app.
The free app, currently available for iPhone, iPad and Android devices, can be downloaded from the iTunes App Store and Google Play Store.
Parex launched the app in response to increased demand from its architectural customers, applicators and distributors to obtain product information in a digital format, specifically for mobile devices.
This convenient mobile app provides easy access to resources for all Parex products and systems, including Parex EIFS and Stucco Assemblies.
Notable features include:
Access to all Parex brand products and support collateral such as details, specifications, brochures, product data sheets and safety data sheets.
Capabilities to email documents directly from the app.
Quick links to Parex's Technical Services Department where users can contact the department directly via phone, or submit a message with the option of uploading an image about the project.
Distributor locator based on current location or regional search. Search results include Distributor Address, Phone, Email and step-by-step directions from the user's current location.
"This app has proven to be a very useful tool for our customers and sales representatives," says Heidi Larsen, Product Marketing Manager. "Not only does it provide expanded access to digital versions of our details, specifications and literature, but it will also make it easier for users locate the nearest location to purchase our products."
For more information, visit www.parexusa.com.