Tesla Plans $5 Billion Battery Plant
10-million-square-foot "gigafactory" is exploring possible locations in Texas, Nevada, Arizona and New Mexico.
---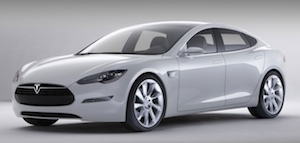 Tesla Motors Inc. (TSLA)'s plan to build what co-founder Elon Musk bills as the world's largest battery factory could shake up the power industry and trigger a bidding contest between states eager for the 6,500 jobs the $5 billion investment could create.
The luxury electric-car maker announced yesterday that it's selling at least $1.6 billion of convertible notes to finance the project and exploring locations in Texas, Nevada, Arizona and New Mexico for a 10 million-square-foot facility. Tesla declined to comment on whether any negotiations had begun.
"This would rank as the most attractive industrial project out there," said Dennis Cuneo, president of DC Strategic Advisors LLC and a former Toyota Motor Corp. executive who helped that carmaker select manufacturing sites.
Tesla has dubbed the project the "gigafactory," and it would make Musk a force in both U.S. manufacturing and electric power. The plant he envisions would have more capacity than any other to make lithium-ion batteries.
click here to read more.
Source: Bloomberg news