SPI Unveils New Retail Planograms
Screw Products, Inc. display units run from 4 to 12 feet wide.
---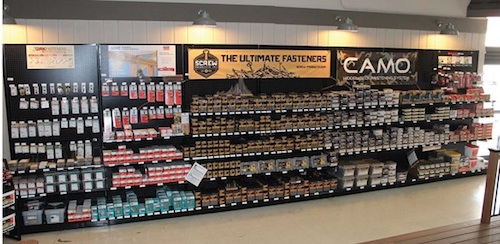 Screw Products, Inc. will be reaching out to retailers this year at the National Hardware Show, May 6 – 8 in Las Vegas, Nev., to offer complete product sets that can be easily added to stores' shelves.
With five separate planograms appropriate for stores and lumberyards of all sizes,
Screw Products, Inc. has created a simple way for retailers to purchase a wide range
of fasteners at wholesale prices, and display them in a way that calls attention to
the products while maximizing space.
Displays are offered for four-, six-, eight-, 10-, and 12-foot units, and signage is
included. All of the schematics are complemented by Screw Products, Inc.'s new packaging, unveiled in 2013 on all of its products in all sizes including jars, pails
and boxes.
With warehouses in Washington State and New England, Screw Products, Inc. also offers same-day turnaround on orders coast-to-coast on all of its products, which include a full range of fasteners for virtually any job and the proprietary DeckLok and RailLok Bracket Systems that are used to create stronger deck connections and to connect railing and fence sections to the post.

www.Screw-Products.com