Simpson Strong-Tie Introduces Deck-Drive Fasteners
New line and nomenclature simplify fastener selection.
---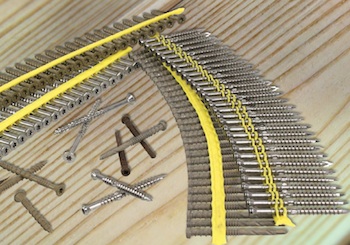 Simpson Strong-Tie introduces a new series of premium deck screws called Deck-Drive Fasteners and has devised a new naming structure for its Strong-Drive Structural Fasteners and Quik Drive Auto-Feed Fastening Systems to make it easier for customers to identify the right fastener for the job.
"We listened to customers' feedback and worked diligently to make it easier to find our products by application. At the same time, we decided to organize all of our premium fastening solutions into three distinct series," said Ed Sutt, Simpson Strong-Tie vice president of Fastening Systems.
The three series of Performance Driven fastening solutions are:
Strong-Drive Structural Fasteners
These load-tested structural fasteners are engineered to efficiently meet the most demanding wood and metal applications. The series now includes structural metal screws, connector nails, and subfloor screws. "The Strong-Drive series is the go-to choice for contractors and engineers when a fastener is needed in a structural situation. They know Simpson Strong-Tie does extensive testing and quality control to verify the performance of the fasteners," Sutt said.
Deck-Drive Premium Fasteners
This new line of premium outdoor wood screws offers superior performance for decking projects. Deck-Drive screws are designed for professional deck builders with unique features to speed installation. Whether the project calls for wood decking, premium composite or exotic hardwoods, these fasteners are designed to install faster and cleaner, which results in labor savings to the contractor.
Quik Drive Auto-Feed Screw Driving Systems
Quik Drive Auto-Feed Screw Driving Systems are the fastest fastening systems on the market, ensuring maximum time savings during repetitive fastening applications. Instead of installing individual screws or other more complicated fastening options, Quik Drive Systems enable customers to work faster and in most cases from an ergonomic standing position.
Simpson Strong-Tie fasteners and Quik Drive Systems are featured in the new 2014 Fastening Systems Catalog. All product naming has been updated to make it easier for customers to find the products they need. In addition, the catalog features a robust technical information section with clear load tables and installation information to help engineers specify and if needed, substitute products.
The 2014 Fastening Systems Catalog (C-F-14) can be ordered by mail or downloaded from the Simpson Strong-Tie website at www.strongtie.com/literature