Arrow Fastener introduces new interactive Web site
Site simplifies tool selection process for pros and hobbyists.
---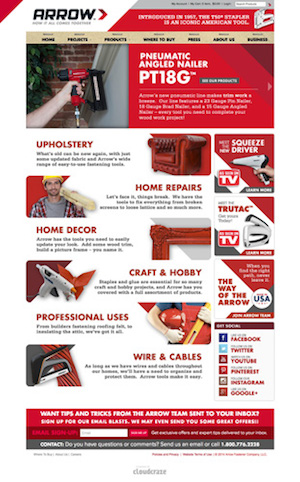 Arrow Fastener Company, the creator of the iconic T50 stapler, launches an all-new interactive website highlighting everyday projects and reliable product solutions to a new generation of construction pros and do-it-yourselfers (DIYers).
Arrow Fastener makes it fast and easy for users to find the right stapler, pneumatic tool, glue gun or hammer tacker to meet a specific need. The emphasis is on projects, not merely products, and the site offers a new way to select tools online.
Products are categorized by project, from general construction jobs to household repairs, from floor and carpeting installation to upholstery and arts and crafts.
The web site includes informative content and simplified navigation that enhances the user experience. The company also solicited help from DIY bloggers to demonstrate simple, DIY projects and crafts, as well as the tools they use, and new projects as well as ideas for seasonal crafts and practical tips will be added to the site on an ongoing basis. All users also can share their projects via Pinterest or Facebook.
"Simpler, better, smarter. Arrow is more than just a functional tool company. We are a go-to source for project help for our customers," says Frank Foster, Director of Marketing and Product Development, Arrow Fastener Company.
Learn more at www.arrowfastener.com