Holland Pump now carries Atlas Copco WEDA pumps
Pump products will be available in Holland stores in Florida, Alabama, Georgia and South Carolina.
---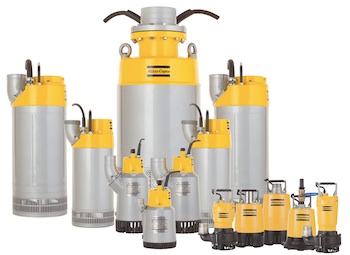 Atlas Copco has announced that Holland Pump, West Palm Beach, Florida, now carries its line of WEDA electric submersible pumps in its southeastern U.S. stores. Holland Pump also carries Atlas Copco generators and light towers.
Holland Pump offers the WEDA electric submersible pump models to its customers in agriculture, construction, government organizations and mining. The products will be available at the company's six Florida stores, along with a store in Alabama, Georgia and South Carolina.
Holland Pump's mission is to help customers "Finish Faster" through all aspects of business: designing, building, delivering, maintaining and repairing pumps.
"Incorporating the Atlas Copco WEDA pumps makes Holland Pump a one-stop shop for most pumping needs," said Win Blodgett, Holland Pump's owner. "We selected Atlas Copco because of the quality equipment, as well as their exceptional sales, service and support. That includes quick lead times."
Joe Moser, pump product line manager at Atlas Copco Construction Equipment said, "Holland Pump has a proven history of renting, selling, and servicing top-notch pumps, and the Atlas Copco WEDA line will boost their thriving line of products. We're proud to be their partner in serving customers."
Learn more at www.atlascopco.us