Insite Software Names New CEO
Tony Abena joins Insite from Deloitte Investments.
---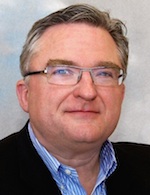 Insite Software has appointed Tony Abena as its new CEO.
Former chief operating officer of Deloitte Investments Tony Abena brings nearly 25 years' experience in high-growth leadership roles in Web, Content, Big Data, and Software‐as-a-Service (SaaS) sectors.
Insite Software, a leading provider of B2B eCommerce platforms and data products, has announced the appointment of Tony Abena as chief executive officer to position the company for its next wave of growth.
Industry veteran Abena is a proven leader in driving revenue growth and profits through innovation. Most recently he served as chief operating officer of Deloitte Investments, an internal start-up division within Deloitte LLP, focused on acquiring, building and growing a market-leading information and SaaS portfolio of businesses in specific vertical market segments for C-level decision makers and knowledge workers.
Abena has been a member of the Insite Software board of directors since June 2014, and in addition to his new role as CEO, he also will continue to serve in his board member capacity.
Insite Software has grown significantly over the past 12 months, nearly doubling employment and significantly expanding its customer roster of leading manufacturers and distributors. Abena's experience in leadership and innovation will play a key role in taking the company to the next level through new investments in product, services, and cultivating new and expanded partnerships with system implementers and key technology and data providers.
Former Insite Software CEO Steve Shaffer remains with the company and will serve as president and chief financial officer.
Prior to his tenure as COO of Deloitte Investments, Abena was president, Business of Law Division at Thomson Reuters, the world's leading provider of intelligent information for businesses and professionals. Prior to this, Abena was a senior executive at industry analyst firm Gartner.
"Since becoming a member of our board earlier this year, Tony has been instrumental in driving market and customer strategy to help us determine the best growth 'roadmap' for the company," said Steve Shaffer, president and chief financial officer, Insite Software. "Tony has a stellar track record of creating new businesses and growing existing businesses and is well-positioned to lead Insite into its next wave of growth as it expands its footprint in the B2B eCommerce market."
"I look forward to working with the strong and experienced Insite team to provide leadership and strategic vision to help Insite Software capitalize on the tremendous growth opportunities that lie ahead," said Abena. "This is an exciting time in the B2B eCommerce market as manufacturers and distributors continue to invest in new technology to adjust or disrupt their business models for the Digital Age. Insite is gaining exceptional 'street credibility' in helping our manufacturing and distribution customers make this transition and transformation, and we're just getting started."
Learn more about Insite Software at www.insitesoft.com