JLG promotes Mike Brown to VP Latin America
Will lead JLG's business in Mexico, Central & South America and the Caribbean.
---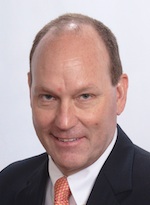 JLG Industries, Inc., has promoted Michael J. Brown to vice president of sales and market development for Mexico, Central America, the Caribbean and designated markets in South America.
In his new role, Brown's responsibilities will include oversight of sales, service and aftermarket support to customers in his regions, as well as leading JLG's business development in Mexico, Central America, the Caribbean and several of the northern markets in South America.
Brown, who has been with JLG Industries since 2011, was instrumental in forming and developing JLG's business infrastructure in those markets.
"Mike's knowledge of regional business practices and his customer-first focus have helped JLG Industries grow our presence in Mexico, Central America, South America and the Caribbean. In addition, Mike's business proficiency has helped drive double-digit growth in Panama, Puerto Rico and Colombia. We look forward to Mike's expertise and knowledge to continue expanding our presence in these countries," said Tim Morris, JLG senior vice president of sales, market development and customer support for the Americas region.
Brown joined JLG Industries after working 14 years with industrial equipment companies in Latin America. He spent nine of those years residing in Mexico. Some of his JLG accomplishments include increasing the workforce to support sales, services and parts in Central America, the Caribbean, Mexico, Colombia and Panama. He also improved the customer service experience, and expanded JLG education and training throughout the region.
Brown is a member of the Association of Equipment Manufacturers (AEM), Construction Equipment Latin America Regional Management Committee (CELARMC), and past president and board member of the Mexican Association of Machinery Distributors (AMDM).
He is a graduate of The Thunderbird School of Global Management with a Master in Business Administration degree in International Management. He received his undergraduate degree at the University of Wisconsin-Madison, where he majored in Spanish. Based in Miami, Florida, Brown is fluent in Spanish and English.
For information, visit www.jlg.com.