JobQuotes.com launches updated website
Growing Southern California website unveils a new look and site upgrades.
---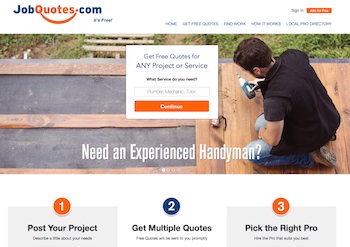 JobQuotes.com has launched an exciting new look along with site upgrades. Website users now find JobQuotes.com easier to use, with a better user experience thus making it effortless to find the perfect service provider for their project.
What sets JobQuotes.com apart from the competition is that its services are completely free, to both Southern California consumers and service providers.
Each professional listed on the JobQuotes website is able to upload photos, certification and license information as well as links to their respective website so that consumers can learn more about the company and reach a peace of mind.
Once a customer with a needed service enters their project into the system, it is not unusual to start receiving bids within minutes. This is all presented nicely by a newly re-done website, which has been simplified and refined with easy to navigate features and a process that avoids any confusion.
JobQuotes.com has seen incredible success in just a short seven months including having over 3,000 service providers sign up in the Southern California area. Hundreds of projects have been posted to JobQuotes.com and the website has generated an estimated $2 million in revenue for its service providers.
"I wanted to create a platform that gives consumers peace of mind, that their hiring the right professional at a fair price, and help local professionals find new clients to grow their business without having to spend money on advertising," said Brandon Large, JobQuotes.com Founder.
Founder Brandon Large is no stranger to the services industry, being a 3rd generation entrepreneur. Prior to starting JobQuotes, Large ran successful Orange County contracting companies including Large Construction and Large Electric, and founded the skateboarding ramp company OC Ramps, which he sold in 2008. Large takes pride in his experience as a "working man" and is giving service providers a fresh avenue for finding work in what has been a tough economy.
JobQuotes.com has been launched throughout Southern California, from Ventura to San Diego, and seeks to expand to all of the U.S. within the near future.
"As a general contractor I had several sub-contractors that were constantly looking for extra work," siad Brandon Large, JobQuotes.com founder. "They'd spend hundreds on these referral websites only to come up empty handed. I saw the flaws with all of these sites and realized there was an opportunity for a site like JobQuotes. We cater to all types of professionals, not just home improvement services, you don't have to be licensed, and you don't have to pay anything!"
JobQuotes.com is designed to connect consumers with the right local professional for any service or project. Whether they need help finding a mechanic, tutor, carpet cleaner or hairstylist, JobQuotes.com will help customers get custom quotes and find the best service professional in their area - without the need for making any time consuming phone calls or endless appointment scheduling.
Post your project or task on JobQuotes.com and within a short time you will get multiple quotes from different local professionals with the right expertise. Before hiring a pro you can see photos of their work, check out their qualifications, and read reviews from past clients.
With over 300 specialties to post your project in, you're sure to find the right professional at the right price. The best part is, it's completely free for everyone! JobQuotes currently caters to the Southern California area with plans to expand nationwide. Learn more at www.JobQuotes.com.