Job openings rise to 14-year high in February
Openings hit 5.1 million for month.
---
U.S. job openings rose to a 14-year high of 5.1 million in February and beat estimates, the U.S. Bureau of Labor Statistics reported Tuesday.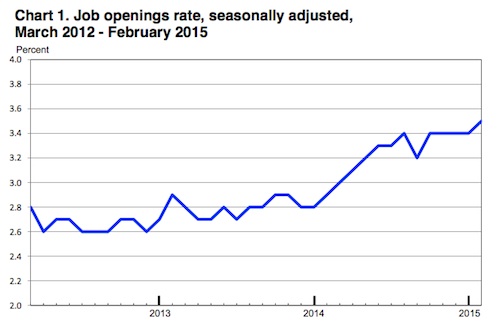 Economists had expected job openings to hit 5 million in January, according to a consensus estimate from Thomson Reuters.
February's numbers increased by 168,000 from 5 million job openings in January. Hires came in at 4.9 million in February and the layoffs and discharges rate was at 1.1 percent. Separations were little changed at 4.7 million.
Employment was slow to grow in March, with nonfarm payrolls increasing only 126,000. The weak gains were seen as the result of bad weather which impacted overall economic activity in the first quarter.
Click here to see the entire story.
Click here to download the BLS report.
Source: AGC