Hyde Tools and Danny Lipford team up for national home improvement media event
Two-Day Curb Appeal program will feature Hyde Pivot Pro washer wand.
---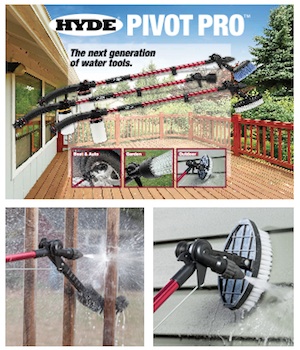 Hyde Tools will be a featured sponsor of the April 14, 2015 Two-Day Curb Appeal, a National Satellite Media Event hosted by national home improvement expert and media personality Danny Lipford. The event will showcase budget-friendly tips on improving a home's exterior appeal.
Broadcasting live via satellite from Mobile, AL, Danny will introduce viewers to Hyde's PivotPro Water Wand and demonstrate its uses and advantages for tackling outdoor spring cleaning.
Danny comments, "This time of year, people are spending a lot of time outdoors and are ready to get their homes in top shape. Having the PivotPro handy will make the job much easier."
The HYDE PivotPro Water Wand for Outdoor Cleaning attaches to a standard garden hose and offers a mixing reservoir for cleaning solutions. With a 46-inch reach, two adjustable brushes and a pivoting nozzle, the PivotPro offers maximum flexibility for outdoor cleaning jobs including windows, gutters, trim and siding, walkways, decks, and more.
Two-Day Curb Appeal will broadcast from a home, and will feature exterior enhancements that any homeowner can tackle as well as DIY curb appeal tips from Danny.
The Media Satellite Event is expected to reach 15-17 million consumers throughout the country.
Established in Southbridge, MA in 1875, Hyde has grown from its early start as a cutlery manufacturer into the leading provider of hand tools for jobs of many kinds. Today, HYDE brand tools stand for innovation and are used by professional remodelers and homeowners alike.
As a contractor for 36 years, Danny Lipford is one of the most respected and sought-after names in the home improvement industry. He has made more than 160 national television appearances and is an expert source for hundreds of popular magazines and websites each year.
Today's Homeowner is a national, multi-media home improvement brand including Danny's Emmy-nominated television show, Today's Homeowner with Danny Lipford, airing on over 214 stations across the country and reaching 1.5 million viewers each week. His weekly syndicated radio show by the same name airs on 100 stations across the U.S. and his website, TodaysHomeowner.com, draws over 1 million unique monthly viewers.
Learn more at www.hydetools.com