Bosch Lead the Charge Power Tour revs up for six-month run
Interactive mobile power tool technology display moves across U.S. and Canada.
---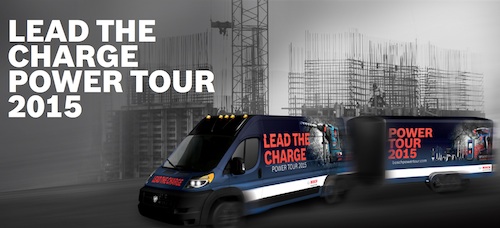 The Bosch Lead the Charge Power Tour is bringing the company's industry-leading power tool technology right to the doorstep of customers across the U.S. and Canada.
With nearly 500 stops on its six-month journey, the Power Tour is a hands-on display and education center that allows users to test Bosch's latest power tools, accessories and measuring tools.
Each Bosch Power Tour event includes a visit from a Bosch-themed one-ton Ram Promaster cargo van outfitted with Sortimo by Knapheide in-vehicle racking and a customized 17-foot tool trailer. And every local Bosch event features hands-on tool demonstrations and free Bosch gear, as well as one-day event pricing.
Events are held at Bosch partner locations around North America, with Bosch representatives available to showcase the latest innovations. Bosch partners will attend select events, including representatives from Ram trucks.
Events are being held in most major markets, including New York, Los Angeles, Chicago, Dallas, Houston, Atlanta, Portland, Seattle, Baltimore, Boston, San Francisco and Charlotte.
In addition to stops in big markets, many small-to-midsize cities are on the schedule as well. Bosch distribution partners including The Home Depot, Lowe's and White Cap, are scheduling multiple events; local and regional partners that extend to industrial supply houses and tool-only outlets also will be hosting events.
"This is an opportunity for our users to see the full scope of the Bosch power tool, accessory and measuring tool offering in their own backyard," said Dave Pizzolato, Bosch group marketing manager for Power Tour operations. "We have a message to share with users who want to use the latest technology and the best tools. The Power Tour is an easy and fun way to see innovation now."
For more information about the Bosch Lead the Charge Power Tour, visit BoschPowerTour.com.